Record U.S. Drivers Taking Roadtrips for July 4, AAA Says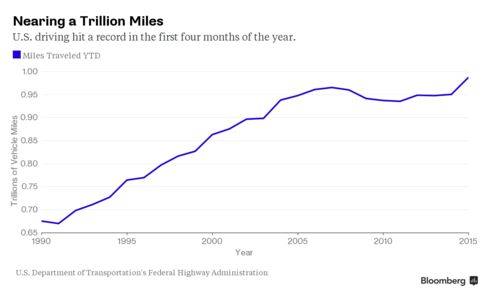 Americans will take to the roads in record numbers over the July 4 Independence Day holiday as the improving job market and lower fuel prices spur more people to splurge on getaways, a forecast by AAA shows.
About 35.5 million people will drive 50 miles or more from home during the five days ending July 5, up from 35.3 million last year and the most since at least 2000, the Heathrow, Florida-based motoring club said by e-mail on Thursday. A total of 41.9 million Americans will travel using all modes of transportation, the most since 2007.
The rise in driving is a testament to the improving U.S. economy, which has added more than 3 million jobs in the past year. Americans have driven a record 987.8 billion miles in the first four months of 2015, and they'll be filling up on the cheapest July 4 gasoline in five years thanks to crude flowing out of U.S. shale formations and flooding the oil market.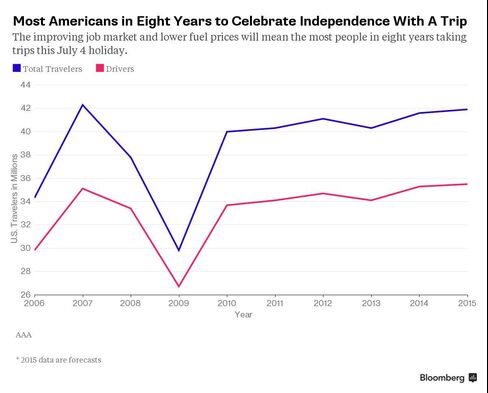 "Rising income, driven by a strong employment market, is prompting more Americans to take a holiday trip this year," AAA said in a statement. "Despite recent seasonal increases, gas prices remain well below year-ago levels, which has helped boost Americans' disposable income."
Drivers will account for 85 percent of travelers, AAA said. About 3.21 million people will fly somewhere for the holiday.
Regular gasoline averaged $2.781 a gallon at U.S. pumps on Thursday, down 90 cents from a year earlier, data compiled by AAA show. U.S. West Texas Intermediate oil has fallen 44 percent in the past year.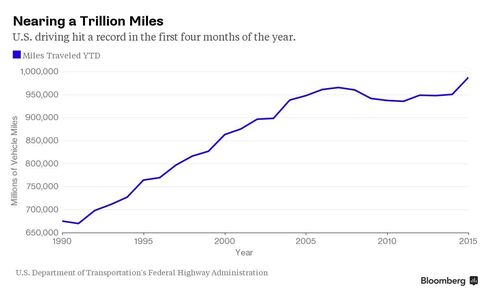 U.S. consumer purchases of gasoline and other motor fuels were up 3.1 percent in the first five months of 2015 compared with a year ago, a report issued by the federal Bureau of Economic Analysis on Thursday shows.
"This is the one best measure of consumer purchases of gasoline and diesel fuel," said Philip Verleger, president of the economic consulting company PKVerleger LLC in Carbondale, Colorado. "What it shows us is there's a real surge in the use of petroleum products that's going on right now."
Gasoline sales in California rose almost 4 percent in the first two months of 2015 from a year earlier, data compiled by the state's tax board show. Drivers bought 1.15 billion gallons of taxable gasoline in February, the most for that month since 2012.
Before it's here, it's on the Bloomberg Terminal.
LEARN MORE