U.S. Drivers Log Record Miles Sending Gasoline Imports Higher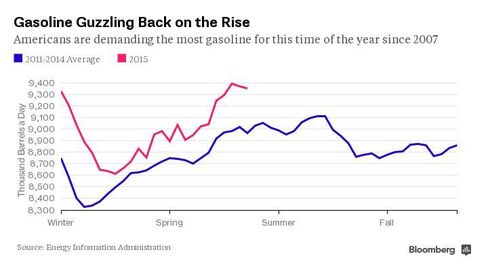 Gasoline imports are the highest in a year and ethanol production is at a record as Americans drive more than ever.
U.S. drivers traveled 988 billion miles in the first four months of 2015, shattering 2007's all-time high of 965.5 billion, the Federal Highway Administration said Wednesday.
That's pushed gasoline consumption to the highest for this time of year since 2007. Last week, imports jumped to the most in over a year, the Energy Information Administration said.
This is good news for U.S. ethanol. Distillers have never seen this much demand for the fuel, which makes up about 10 percent of gasoline. Ethanol inventories shrank to 19.8 million barrels last week, the lowest since Jan. 2, even as production climbed to a record.
"We're consuming it just as fast as we're putting it out," Jerrod Kitt, an analyst at Linn Group in Chicago said by phone Wednesday. "The underlying thing in the market is just this tremendous demand. It's a summer of records."
Before it's here, it's on the Bloomberg Terminal.
LEARN MORE