Treasuries Advance as Greece Bailout Terms Remain Unresolved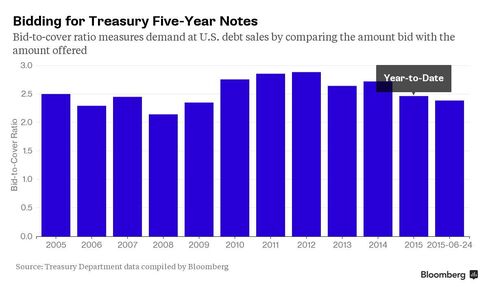 Treasuries rose for the first time in three days as investors sought a refuge in the safest government securities amid the risk that Greece may fail to reach an agreement with its creditors.
Traders are watching the outcome in Europe as well as U.S. economic data as they assess the probability that the Federal Reserve will raise interest rates this year.
Investors are "fatigued," said Edward Acton, a U.S. government-bond strategist at RBS Securities Inc., one of 22 primary dealers that trade with the Fed. "The initial Greece proposals were rejected. We are at another impasse."
The benchmark Treasury 10-year yield fell four basis points, or 0.04 percentage point, to 2.37 percent as of 4:59 p.m. New York time, according to Bloomberg Bond Trader data. The
2.125 percent note due in May 2025 rose 11/32, or $3.44 per $1,000 face value, to 97 7/8. The yield increased 15 basis points in the previous two days.
Euro-area finance ministers were meeting for the third time in a week in a push to avert a Greek default with just six days left before the country's bailout expires. Greece's Prime Minister Alexis Tsipras said some creditors didn't accept proposals to unlock aid.
Treasuries are "range-bound until there's more clarity" on Greece, said Thomas Tucci, managing director and head of Treasury trading in New York at CIBC World Markets Corp. "There's nothing that came about today. There's nothing that has been resolved."
Auction Results
U.S. gross domestic product fell in the first quarter at a
0.2 percent annualized rate, compared with a previously reported
0.7 percent drop, revised data from Commerce Department showed in Washington. That matched the median forecast of 76 economists surveyed by Bloomberg.
New home sales climbed in May to the highest since February 2008, the Commerce Department said Tuesday.
Economists predict 10-year yields will rise to 2.54 percent by year-end, according to a Bloomberg survey with the most recent forecasts given the heaviest weightings.
Traders betting on rising rates have pushed U.S. borrowing costs at auctions to the highest levels this year.
The $35 billion of five-year securities sold drew a yield of 1.710 percent, topping every auction sale since December and higher than the 1.708 percent expected in a Bloomberg News survey of six primary dealers. The bid-to-cover ratio, which gauges demand by comparing the amount bid with the amount offered, was 2.39 versus the average at the past 10 auctions of
2.54.
"It was pretty soft," said Aaron Kohli, an interest-rate strategist BNP Paribas SA in New York, one of the primary dealers, speaking about the auction. "We are heading into a rate-hike cycle and that makes everyone a little more cautious about buying Treasuries."
The Treasury Department sold $26 billion of two-year notes on Tuesday at a yield of 0.692 percent, the highest since December. The U.S. is scheduled to auction $29 billion of seven-year securities on Thursday.
Before it's here, it's on the Bloomberg Terminal.
LEARN MORE