The Green Mountain State might suffer from a much less green labor force over the next 15 years, according to fresh state-by-state projections of the working-age population from the Conference Board.
Vermont was the biggest loser in the bunch, where the working-age population between this year and 2030 is projected to drop by 11.5 percent — 2 percentage points more than the next-closest state. That's even as the working-age population is projected to grow 5.2 percent nationally over the same period. There's a big gap between winners and losers across the country, as shown in the map below.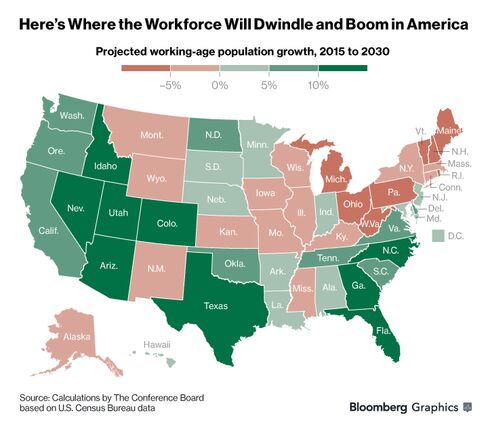 The Northeast and Midwest regions, which are home to about 39 percent of working-age Americans, probably will see a 3 percent decline in that population through 2030, the authors estimate.
For West Virginia, the bad news could get worse. The state had the dubious distinction of being the only one to lose jobs in the year through May, according to Labor Department data. The Conference Board projects West Virginia will see a 9.5 percent decline in its working-age population over the next decade and a half, the second-biggest drop. Maine, already teased for perpetually being among the oldest states in the country, will match that decrease.
On the positive end of the ledger are three neighbors: Nevada, Utah and Arizona lead the pack in working-age population growth. Nevada will see a 25.5 percent increase, while Utah and Arizona will each get an almost 24 percent boost. The three winners will grow for a mix of reasons — while Utah boasts a high fertility rate that will buoy the younger population, Nevada and Arizona are Nos. 1 and 3 on the Conference Board's state rankings of net international and domestic migrants as a share of the working-age population.
The Conference Board based its estimates on how states will stack up in four categories through 2030: 1) net change in the 18- to 64-year-old age group; 2) number of deaths; 3) number of international immigrants added to the state population; and 4) net domestic migration. Projections were calculated using current rates of population change and don't account for potential shifts in migration trends.
For more on the global economy, check out Benchmark:
Before it's here, it's on the Bloomberg Terminal.
LEARN MORE