Momo's No to U.S. Shows China Stock Exodus Gathering Speed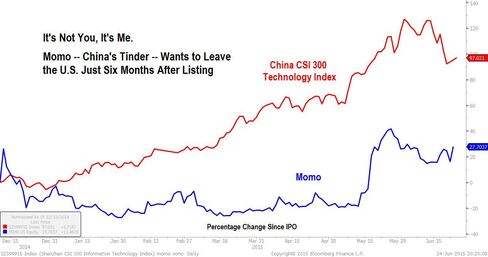 Momo Inc., the maker of a chat app used for casual dating, is taking China's pullout from the U.S stock market to a new level.
Just six months after raising $248 million in an initial public offering, the chief executive officer is buying out shareholders to take the company private. It's the second-fastest take-private bid for a Chinese company in the U.S. in the past decade, according to data compiled by Bloomberg.
It's not like the IPO was badly received. Before the bid was announced Tuesday, Momo's American depositary receipts had climbed 16 percent from their Dec. 11 debut. But for a growing number of Chinese companies -- 24 this year at the last count -- a U.S. listing is no longer sought after as shares in their domestic market surge most in the world and the Communist Party offer incentives to return.
"Even though the IPO is not that bad, management still believes this company can get a higher valuation in China considering its strong user base there and better communication with investors," Henry Guo, a San Francisco-based analyst at Summit Research Partners, said by phone Wednesday. There's a scarcity of publicly traded "good quality online companies in China," he said. "You want to become the first ADR to go back."
Morgan Stanley, Credit Suisse Group AG, JPMorgan Chase & Co. and China Renaissance Securities managed Momo's IPO. The ADRs slipped 0.1 percent to $17.22 in New York on Wednesday after rallying 9.9 percent on Tuesday.
Stock Subsidies
A gauge of technology stocks traded on the China's CSI 300 Index has more than doubled this year and trades at 79 times earnings. City and provincial governments are giving subsidies to companies that sell shares locally as President Xi Jinping seeks to boost the role of home-grown technology in Asia's largest economy.
For some other Chinese companies, listing in the U.S. has been a less successful experience. Renren Inc., owner of a social networking website similar to Facebook Inc., received a takeover bid from two of its executives on June 10. The offer was less than one-third of its IPO price four years ago.
Momo's co-founder and CEO Yan Tang as well as investors including Sequoia Capital China Investment Management offered to buy all of the company's outstanding ADRs for $18.90 each in cash, a premium of about 20 percent to the June 22 closing price.
Arranging Dates
Vanessa Chen, an investor-relations representative for Momo, declined to comment beyond the company's press release on the offer. The company offers a location-based chat service that allows users to talk to strangers nearby and is popular for arranging dates, similar to Tinder. Momo also provides games on its platform.
Only Shanghai-based chipmaker Montage Technology Group Ltd. has been faster in receiving a take-private bid in the U.S., which came 5 1/2 months after its September 2013 IPO.
The CSI 300 Information Technology Index dropped 6.3 percent. The Shanghai Composite Index declined 3.5 percent.
Before it's here, it's on the Bloomberg Terminal.
LEARN MORE