Marchionne Says Fiat Chrysler 'Far Removed' From Offer for GM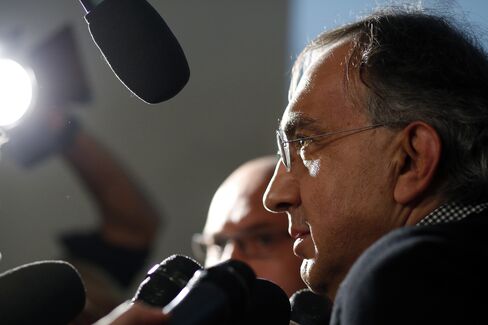 Fiat Chrysler Automobiles NV isn't close to an offer for General Motors Co. and hasn't spoken with activists or other GM shareholders, Chief Executive Officer Sergio Marchionne said. Still, he said he'd support any investor push for such a deal.
"We are very far removed from any of those scenarios," Marchionne said when asked if he was considering a bid for GM. He spoke Wednesday at the presentation of the new Alfa Romeo Giulia sedan near Milan.
Marchionne reiterated his call for consolidation among automakers. He said earlier this month that it needs to happen soon, as the industry pours 2 billion euros ($2.2 billion) a week into developing new models. Potential partners, including Detroit-based GM and Ford Motor Co., have said they're not interested.
"We have been very clear on the need for consolidation. Everyone who makes that statement is a friend of mine," Marchionne said when asked if he would support investors pressing GM CEO Mary Barra to consider a merger.
Marchionne, 63, is pushing for consolidation to share the cost of developing new technologies such as increasingly autonomous cars and more efficient engines. His pleas have fallen on deaf ears at other manufacturers as rosy U.S. and European sales numbers leave carmakers feeling less pressure to restructure.
The CEO of London-based Fiat Chrysler has been working with an advisory firm to gauge investor interest in pushing for a merger of his company and GM and is also looking at other candidates due to the U.S.-based carmaker's lack of interest, people familiar with the matter said June 11.
Marchionne said Wednesday that he always has advisers.
When asked if he would do a hostile bid, Marchionne declined to give a direct answer.
"Hostility is continuing to run the business keeping total disregard for the provider of capital," he said. "That's true hostility and needs to be fixed."
Read this next:
Before it's here, it's on the Bloomberg Terminal.
LEARN MORE