Korea's National Pension to Oppose Merger of SK Group Units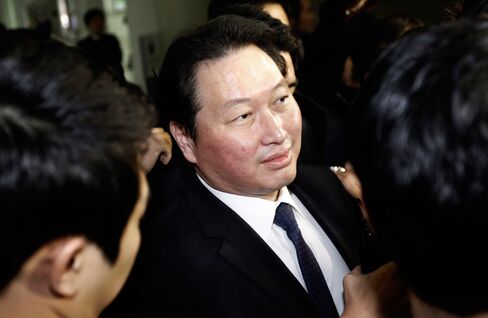 South Korea's National Pension Service will oppose a merger between two units of SK Group, the country's third-largest conglomerate, on grounds that the proposed deal would undermine minority shareholders.
SK C&C Co.'s all-stock purchase of SK Holdings Co. would harm holders of the target's shares due to the merger ratio and the timing of a share cancellation, according to a statement from the Ministry of Health and Welfare, which oversees the state-run pension fund. The NPS owns a 7.19 percent stake in SK Holdings, whose shareholders are scheduled to vote on the deal on Friday.
The NPS's decision is a potential stumbling block in billionaire Chey Tae Won's plan to cement control of SK from prison, where he's serving a sentence for embezzlement. It also comes as investors await the pension fund's stance in the fight between Samsung Group and a U.S. hedge fund over the proposed merger of Cheil Industries Inc. and Samsung C&T Corp.
"It's a welcome move from the NPS and shows that it's becoming more tuned in to the issue of shareholder value," said Chae Yi Bai, an analyst at corporate watchdog Center for Good Corporate Governance. "The decision is also meaningful because there's a similar situation at Samsung C&T and Cheil Industries, and today's announcement may give a hint on how the NPS may vote on that case as well."
Shares of SK C&C fell as much as 7.1 percent after the pension fund's decision, while SK Holdings dropped as much as 5.4 percent.
'Warning Sign'
The NPS's decision is "regrettable," SK Holdings spokesman Lee Young Suk said by phone, adding that other bodies including Institutional Shareholder Services Inc. had advised in favor of the deal. "SK will do its utmost to boost shareholder value," he said.
Chae at the Center for Good Corporate Governance also said he expects the deal to pass because because of SK affiliates and related parties holding shares. The health ministry said the committee that advises the NPS didn't reach a unanimous decision.
"Today's decision is a warning sign from the NPS to the market that the fund won't tolerate acts that damage shareholder value," said Lee Jin Woo, a money manager at KTB Asset Management Co., which oversees $10 billion. Lee also expects the merger to proceed.
The combined company, spanning businesses from energy to semiconductors, will have total assets of about 13.2 trillion won ($11.9 billion), the two companies said in April when the deal was announced.
Prison Sentence
Chey, 54, was sentenced to four years in prison in 2013 for embezzling corporate funds to cover personal investment losses. He's the largest shareholder of SK C&C, the key listed company in the SK Group. The family-run conglomerate or chaebol includes SK Hynix Inc., a supplier of memory chips to Apple Inc.; refineries; and the country's biggest wireless carrier.
While the NPS may not hold enough shares in SK to prevent the merger, its 10.15 percent stake in Samsung C&T is viewed as the swing vote as U.S. activist investor Paul Elliott Singer seeks to block its takeover by Cheil Industries. Analysts expect the pension fund, which has holdings in at least 12 Samsung affiliates, to vote in favor of the deal next month.
Before it's here, it's on the Bloomberg Terminal.
LEARN MORE