Is This Central Banker Over-Exposed?
BOJ Governor Haruhiko Kuroda is out in public enough times to make a celebrity blush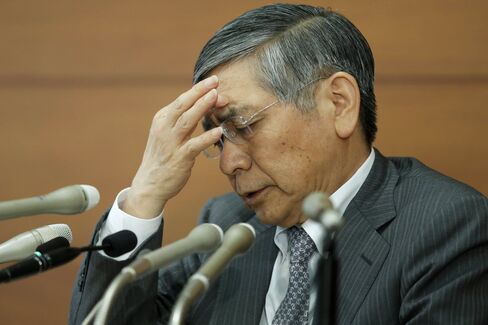 Bank of Japan Governor Haruhiko Kuroda may be over-exposed.
With 10 public speeches under his belt since January, 23 appearances in parliament over the past six months and press conferences to follow 14 scheduled policy board meetings this year, he's out in public enough to make a celebrity blush.
In February, Kuroda spoke in public on average once every two days.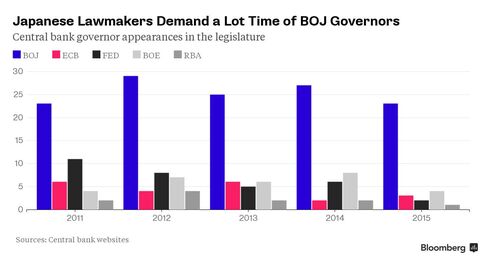 Now there are signs that even the BOJ thinks this could be too much. The bank this month said it would cut the number of meetings and press conferences to eight from next year, bringing it in line with the U.S. Federal Reserve, the Bank of England and the European Central Bank.
Even so, Kuroda is on course to appear in parliament 30 times this year, if his visits to the legislature since January are any guide. This would be the most since 2002 for the central bank's chief.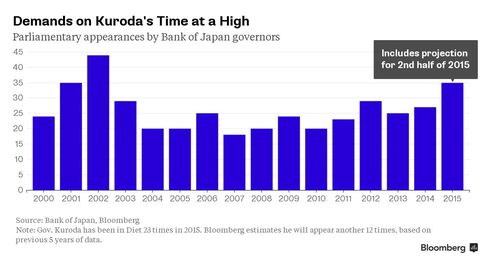 Any Japanese lawmaker can call any central bank official to the national parliament to answer questions at almost any time it's in session. This includes Kuroda, his deputies, other board members, and senior BOJ officials.
October last year is a case in point. The bank had to suspend a policy meeting when Kuroda was unexpectedly called into parliament for 80 minutes on Oct. 7. On that occasion, he merely repeated the bank's stated policy.
"It's dangerous to call a governor to parliament when he is in a busy time such as during or right before a policy meeting,'' said Hiroshi Miyazaki, an economist at Mitsubishi UFJ Morgan Stanley in Tokyo. "We may need rules to stop parliament interfering at critical times.''
Other central bank chiefs including Janet Yellen at the Federal Reserve and the Bank of England's Mark Carney aren't called before lawmakers nearly as much, and their appearances are generally scheduled well in advance.
With Japan's parliament sitting until at least Sept. 27 this year, that means more time for Kuroda to be grilled by lawmakers, and more opportunities for his comments to move markets.
The yen had its biggest rally this year on June 10 during one of Kuroda's sessions with lawmakers when he commented on the currency. Kuroda spent a good part of his public appearances the following week clarifying those remarks.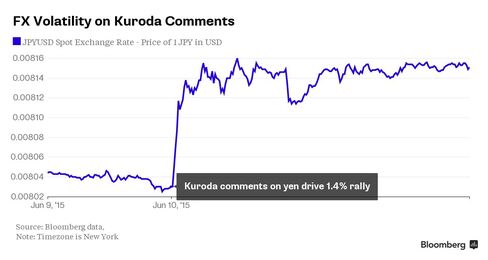 Given his public schedule, the governor will continue to face risks of "misspeaking or misinterpretation,'' said Masamichi Adachi, an economist at JPMorgan Chase & Co. and a former BOJ official.
For more on the global economy, check out Benchmark:
Before it's here, it's on the Bloomberg Terminal.
LEARN MORE