How Draghi Shifted ECB Crisis Tactic Amid Greek Brinkmanship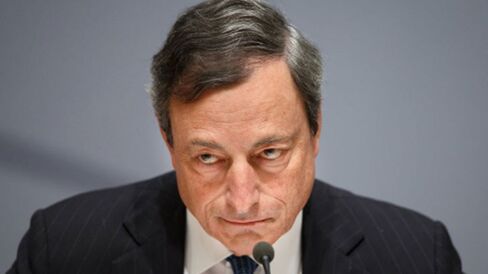 Mario Draghi can't afford to play by the same crisis rules as the European Central Bank did in the past.
With Ireland in 2010 and Cyprus in 2013, a threat to withhold aid for lenders forced each country to agree to international bailouts. This time, Greece's appetite for brinkmanship has so far left the ECB president dependent on Europe's politicians to deliver the ultimatums, while policy makers have reluctantly kept Greek banks afloat.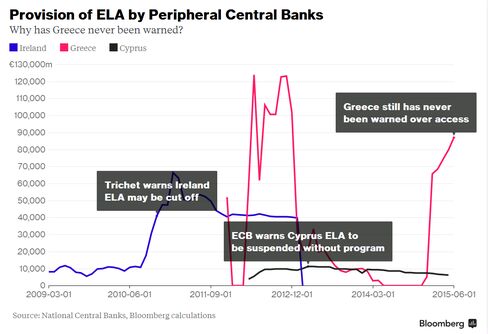 Through weekly, and now almost daily, doses of liquidity, ECB support for those institutions has given Greece's government room to negotiate a bailout with creditors until the eleventh hour without imposing capital controls. That's riled sticklers for rules on the ECB Governing Council, but such pliancy is a price Draghi may have paid to keep the euro intact.
"What strikes me is the patience which the ECB has found in all of this," said Holger Schmieding, chief economist at Berenberg Bank in London. "This was too much of a political decision for the ECB. Ireland didn't look like falling out of the euro, and Cyprus was much more marginal. So sometimes you discover a flexibility that you weren't aware of before."
So-called Emergency Liquidity Assistance for banks has been part of the ECB's toolkit since its foundation. It was intended to allow authorities to tide over solvent lenders who could neither raise funding in markets nor had collateral for regular ECB tenders. The measure was never meant to save whole countries.
Deposit Flight
That's what it's now doing. While Greece didn't ask for an increase in assistance on Wednesday, according to a person familiar with the matter, it has needed fresh approval for a higher ELA limit four times in the past week. An ECB spokesman declined to comment on Greece's ELA requests.
Via the Greek central bank, the ECB is replacing money withdrawn by depositors fearful that the government can't agree a deal with its creditors, allowing lenders to rack up an overdraft of almost 90 billion euros ($101 billion) since February.
ELA cash loaned against state-guaranteed bank bonds and government debt at its 2012 peak amounted to almost 63 percent of Greek GDP, far more than the equivalent measure in Ireland or Cyprus. Now, Draghi says total liquidity support to Greece amounts to 118 billion euros, or about 66 percent of GDP, the highest level of any country in the euro.
Similar Fate
Yet while the ECB, under then-President Jean-Claude Trichet, ordered Ireland to accept external aid in 2010 or face an end to funding, and Cyprus suffered a similar fate in 2013, the ECB has yet to agree on making an explicit threat to Greece.
Instead, Draghi has left government officials and other institutions to cajole Greek Prime Minister Alexis Tsipras to commit to completing the country's current bailout. On Monday, Draghi quipped to International Monetary Fund chief Christine Lagarde in Brussels that the ECB is "the junior partner in this game."
"I don't think the ECB will be the ones to pull the trigger in this case as the stakes are much higher," said Juliet Tennent, an economist with Goodbody Stockbrokers in Ireland. "They'll keep supporting the banks as long as the political process is alive."
Brussels Talks
That process lurches from hope that a deal is just around the corner to fears that it's falling apart. On Wednesday, as as he headed to Brussels for negotiations, Tsipras announced that the country's creditors had rebuffed his proposals and said his government rejects the latest terms set by the creditors. Germany downplayed the chance of an imminent deal.
"Our impression is that there's still a long way to go," German Finance Ministry spokesman Martin Jaeger told reporters in Berlin. Creditor institutions have made "exceptionally generous" concessions to the Greek government and "it's now up to the Greek side to show some movement," he said.
Draghi's willingness to allow Tsipras months of negotiating room even while cash drains from the banking system has riled those who have had a rougher ride. Michael Noonan, Ireland's finance minister, suggested on Tuesday that Greece might not get ELA funding beyond Thursday if it doesn't agree a deal.
"The new round of negotiations have got a very short timeframe," he told the Irish parliament on Tuesday. "There is a risk ELA will be cut off because they're bound by legal arrangements in the ECB."
ELA rules are only publicly available in a two-page summary on the ECB's website. The ECB can stop assistance, which is nominally at the risk of the domestic central bank, if it "considers that these operations interfere with the objectives and tasks of the Eurosystem."
Lose-Lose
While that would be enough to allow the ECB to halt ELA aid for Greece if it ends up defaulting on loans due to the IMF at the end of this month, such a situation would still be lose-lose, said Eoin Fahy, chief economist at Kleinwort Benson Investors in Dublin.
"Whatever the ECB does, it will be seen as overtly political," he said. "Cutting off ELA will be seen as kicking Greece out of the euro area, extending ELA seen as keeping Greece in the euro area against their mandate. They might prefer Greece to stay in, but not at any cost."
There has been little sympathy for the ECB's dilemma in Athens, where Tsipras has described its tight control of the liquidity aid from the Bank of Greece as "asphyxiation."
To an extent, Greece has been lucky to escape the full ire of the ECB, especially after Finance Minister Yanis Varoufakis declared in February that he was in charge of a "bankrupt country," according to Philippe Lamberts, a member of the European Parliament's Economic and Monetary Affairs committee.
"They knew we were in a situation that really threatened the cohesion of the euro zone and now they have to play safely," he said. "They showed restraint."
Read this next:
Before it's here, it's on the Bloomberg Terminal.
LEARN MORE