Harvey Pollack, Inventor of NBA Term 'Triple-Double,' Dies at 93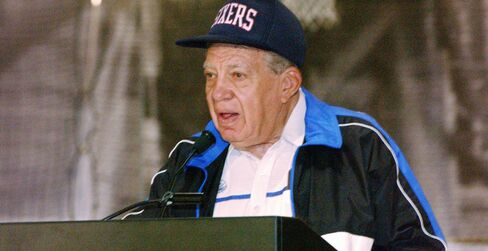 Harvey Pollack, basketball's godfather of statistical analysis and the last employee remaining from the NBA's first season still working in the league, has died. He was 93.
He died on June 23 in Philadelphia at Hahnemann University Hospital, Mike Preston, a spokesman for the Philadelphia 76ers, said in an e-mail. The cause was sepsis. Pollack was injured in a one-car accident on New Year's Day and never recovered from his injuries, according to the Philadelphia Daily News. Pollack worked for the 76ers since the team moved there in 1963.
"Our hearts are heavy as we mourn the passing of a true NBA legend," Scott O'Neil, chief executive officer of the franchise, said in a statement. "He may never have laced up his sneakers, but few have done more to advance the game, in the NBA or Philadelphia basketball, than Harvey. He did what he loved until the end, and shared that love of statistics and basketball with his family, who we remember at this difficult time."
Nicknamed "Super Stat," Pollack is credited with beginning the National Basketball Association's official tracking of rebounds, steals, turnovers, blocked shots and minutes played, as well as less traditional statistics such as 48-minute projections and plus-minus evaluations. During Magic Johnson's rookie season in 1979-80, Pollack coined the phrase "triple-double."
Eighteen years earlier, on March 2, 1962, Pollack scribbled "100" on a white piece of paper and handed it to Philadelphia Warriors center Wilt Chamberlain following his record-setting scoring performance. The game wasn't videotaped, leaving the photo of Chamberlain holding the paper as the most iconic image of the league's greatest individual achievement.
Annual Publication
For almost half a century Pollack and his staff released the "Harvey Pollack NBA Statistical Yearbook," a several hundred-page collection of statistics, trends and trivia.
"He documented NBA history for nearly 70 years with passion, curiosity and a relentless work ethic," NBA Commissioner Adam Silver said in an e-mailed statement. "Harvey has been a true caretaker and ambassador of the game, and he will be sorely missed."
Herbert Harvey Pollack was born March 9, 1922, in Camden, New Jersey. A 1943 graduate of Temple University, Pollack served in the U.S. Army during World War II and then took his first job as a sportswriter for the Philadelphia Bulletin.
In 1946, he joined the Philadelphia Warriors, then of the Basketball Association of America, as the team's assistant publicity director, and was promoted to head of media relations 6 1/2 seasons later.
Team Moves
When the Warriors left for San Francisco in 1962, he continued working as a public-relations contact at neutral-site games, and then joined the 76ers in 1963 when the franchise moved from Syracuse, New York. He was the 76ers' media-relations director until the 1987-88 season and had since been the team's director of statistical information.
Pollack is the only person given all four Philadelphia basketball championship rings -- two with the Warriors and two with 76ers. In 2002, the National Basketball Hall of Fame gave him the John W. Bunn Lifetime Achievement Award, its highest honor outside of enshrinement.
Pollack had two children, Linda Gottfried and Ron Pollack, four grandchildren and six great-grandchildren. Ron Pollack has been a member of the 76ers' stats crew for more than 50 seasons.
Before it's here, it's on the Bloomberg Terminal.
LEARN MORE