Get Ready for a Long Night of Greece Talks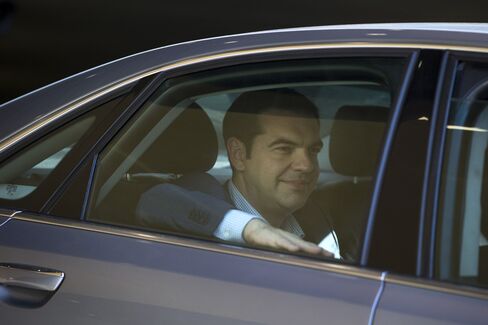 Euro-area finance ministers said more time will be needed to hatch a viable deal for Greece as a breakthrough on the terms attached to aid remained elusive.
With just six days until Greece's bailout expires and a payment to the International Monetary Fund falls due, finance chiefs arriving in Brussels Wednesday for their third meeting in a week said they were preparing for lengthy negotiations that might still fail to break the impasse.
"I don't have much new to report," German Finance Minister Wolfgang Schaeuble told reporters. "My feeling is that we're not much further forward from Monday, but let's begin and then see. For my part, the preparations are not sufficiently far advanced that we can aim for a deal today."
Ministers downplayed the chances of an accord after Prime Minister Alexis Tsipras and Greece's creditors clashed over the terms attached to his country's bailout. Tsipras met for about five hours earlier in Brussels with the heads of the three creditor institutions -- IMF chief Christine Lagarde, European Commission President Jean-Claude Juncker and European Central Bank President Mario Draghi -- without commenting as he left.
European leaders are due to arrive in Brussels Thursday for a two-day summit that takes place in the shadow of the Greek bailout exiry on June 30.
"I don't like all these deadlines because what we need to do here according to my opinion is first of all reach a good agreement for the Greek economy," Belgian Finance Minister Johan Van Overtveldt told reporters. "We'll see how far we get today. If we can't get that today, we'll see where we get tomorrow."
Finnish Finance Minister Alexander Stubb said he would be "positively surprised" if the divide could be bridged during the evening, while Edward Scicluna of Malta said it would take far longer for Greece to regain the trust of creditors "and everyone involved in this lengthy process."
"We are in for a long night," Scicluna said. "I really do hope that we will settle it."
Before it's here, it's on the Bloomberg Terminal.
LEARN MORE