GM's Revamped Chevy Cruze Small Car Gets Larger, More Profitable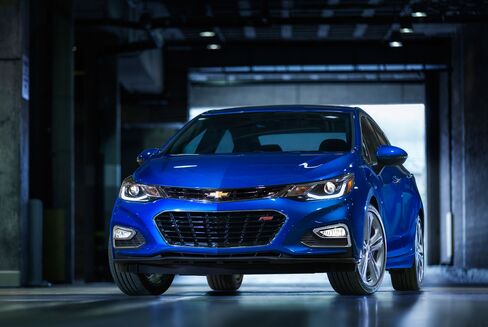 General Motors Co. is adding size and power to help spur demand for the redesigned Chevrolet Cruze compact, which the company also expects to be more profitable than the current model when it goes on sale early next year.
The new model was engineered using common engines and parts with GM's other small cars around the world, including the European Opel Astra, said Mark Reuss, GM's executive vice president of global product development, in an interview on Wednesday. By capitalizing on global sales volume and using common parts, Reuss said GM expects the new Cruze and Chevy Malibu family sedan together will boost variable profit by $1,500 to $2,000 per car.
Both models were engineered as part of a companywide initiative to reduce costs by using common engines, parts and vehicle platforms. That has been an evolution for GM, which historically had done more engineering in local markets, a more expensive process.
"The margins on the Cruze are improving," Reuss said. "The only way to do that is with scale."
While GM has lowered costs, the company is also making the car larger, more powerful and offering more safety features, Reuss said.
The 2016 Cruze, unveiled Wednesday in Detroit, is about 3 inches (7.6 centimeters) longer than the current version, at almost 184 inches, and its standard 1.4-liter turbo engine adds 15 horsepower, to 153. The new model goes on sale in the U.S. early next year and will be sold in more than 40 markets, GM said in a statement.
Beyond Pickups
The Cruze is a vital car for GM, which gets about 70 percent of its U.S. sales from Chevy and is trying to build on the brand's strong-selling pickups and sport utility vehicles. The compact car will follow a revamped Chevy Malibu family sedan, which goes on sale later this year.
"The 2016 Cruze builds on a very successful program that introduced Chevrolet to new customers the world over," Alan Batey, president of GM North America, said in the statement. "We retained all the attributes that made the original Cruze a hit around the globe and built on them."
Cruze U.S. sales have fallen 12 percent this year through May, as the new model looms and as gasoline prices remain relatively low. For all of last year, GM sold 273,060 of the small cars, a 10 percent gain from 2013.
With roominess a selling point, cars tend to get larger with each generation. The original Cruze, which began sales in September 2010, was bigger than the Chevy Cobalt it replaced. The redesigned Cruze will be about 4 inches shorter that a mid-1990s Toyota Camry midsize sedan. The Camry is now about 191 inches long.
Even with the increased horsepower, the Cruze standard engine will be more fuel efficient in highway driving, according to GM. The 1.4-liter turbo will go 40 miles on a gallon of gasoline, the Detroit-based company said. The 2015 Cruze with that size engine has a U.S. government rating of 38 mpg.
Before it's here, it's on the Bloomberg Terminal.
LEARN MORE