Fishing Tips From Tom Colicchio
Angling advice from a top chef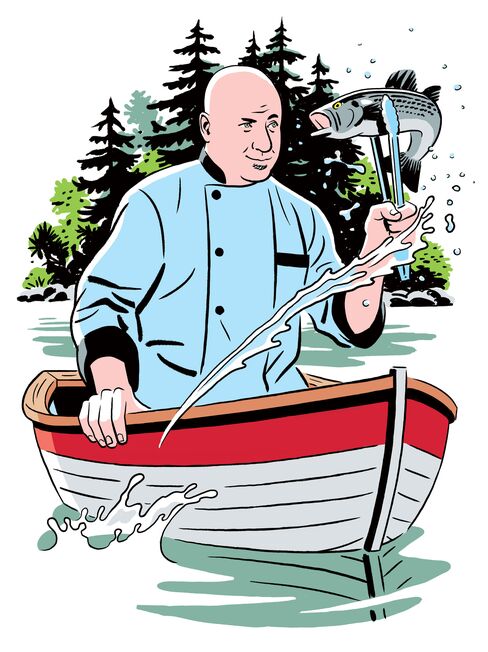 Colicchio, the head judge on Bravo's Top Chef, is the owner of nine restaurants, including New York's Craft and Colicchio & Sons and Miami's Beachcraft, which opens this summer. He started fishing when he was 4 years old, crabbing and clamming with his grandfather in Toms River, N.J.; he learned to fly-fish at 26. Colicchio takes his boat out at least 20 days a year. Here's his best angling advice.
1. Find a good captain who will share information with you. But don't expect him to share it the first time you go out. You have to build a relationship. If you want to go for stripers out of New York, I highly recommend Captains Frank Crescitelli and Joe "Maz" Mustari.
2. Buy the best equipment you can afford and take care of it. I was on a boat, and we lost a good fish when the reel seized up, because it wasn't maintained properly. For fly-fishing, I typically use a Sage rod. Reels, you can go with Abel or Tibor. For offshore stuff, I like Accurate.
3. I only keep a fish if I'm going to eat it that day. I'm not into catching things, killing them, and freezing everything. It's wasteful. When I was growing up, there were no striped bass around. They came back in a great way, and now we're overfishing them again. Bluefin tuna is gone.
4. If you're 40 or 50 miles offshore in the Northeast in the summer and you see a log, there's a good chance there are fish under it. Dolphinfish like to sit underneath things—weed patches, weather buoys, anything that provides any shelter at all.
Before it's here, it's on the Bloomberg Terminal.
LEARN MORE