Boston Bomber Tsarnaev Sentenced to Death, Addresses Families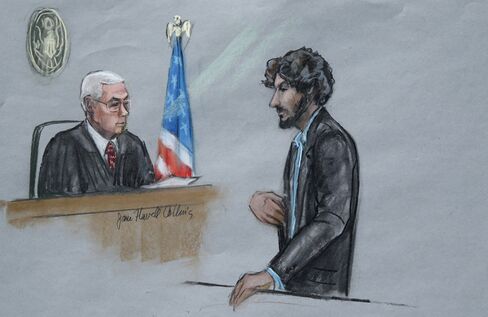 Boston Marathon bomber Dzokhar Tsarnaev addressed a federal court in Boston on Wednesday and for the first time apologized to the victims of the attack, which killed three and wounded hundreds of others.
"I am sorry for the lives that I've taken, for the suffering that I've caused you, for the damage that I've done—irreparable damage," Tsarnaev said.
Addressing the victims, he said, "I pray for your relief, for your healing."
Tsarnaev went on to claim responsibility for the attack, telling the court, "I did do it."
More than 20 victims gave statements at the hearing. Rebekah Gregory, a marathon spectator from Houston who lost a leg in the bombing and has since become a motivational speaker, taunted Tsarnaev.
"Reality clearly states you and your brother have lost," she told him.
"While your intention was to destroy America, what you and your brother [have] done has unified us. We are Boston Strong. We are America strong. So how's that for your victim impact statement?" she said.
U.S. District Judge George O'Toole announced that he was satisfied with the jury's death sentence.
"Theirs was not the only possible verdict, but it is certainly a rational verdict," he said. "I sentence you to the penalty of death by execution."
"Whenever your name is mentioned, what will be remembered is the evil you've done," O'Toole continued. "What will be remembered is you murdered and maimed innocent people, and you did it willfully and intentionally.
Before it's here, it's on the Bloomberg Terminal.
LEARN MORE