As Samsung Proxy Fight Looms, Korea Sends Warning to Chaebol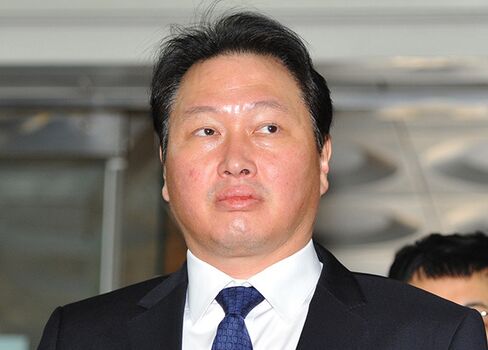 As Samsung Group's founding family prepares for a proxy fight next month, South Korea signaled it will defy corporate dynasties that seek to tighten their grip over their businesses at the expense of minority shareholders.
The welfare ministry's National Pension Service, the country's largest investor, on Wednesday made the rare move of rejecting a proposed merger within a Korean conglomerate by objecting to the combination of two SK Group units on concern the deal isn't in the best interest of all shareholders. The fund opposed only about 9 percent of proposals put forward by Korean companies last year.
The decision is a blow to SK's ruling Chey family, which sought to solidify its holdings across the group at a time when shareholder activism is on the rise in Korea. The pension fund, armed with 446 trillion won ($403 billion) in assets, will make an even more closely watched decision in the coming month when the nation's biggest conglomerate, Samsung Group, puts a controversial deal to the vote.
"It's a welcome move from the NPS and shows that it's becoming more tuned in to the issue of shareholder value," said Chae Yi Bai, an analyst at corporate watchdog Center for Good Corporate Governance. "The decision is also meaningful because there's a similar situation at Samsung."
SK, headed by jailed billionaire Chey Tae Won, said it will push ahead with the deal -- an all-stock offer from SK C&C Co. to buy out SK Holdings Co. -- and put the proposal up to a shareholder vote on Friday as planned. Shares of both companies dropped in Seoul trading after the pension fund's decision was announced.
'Regrettable' Decision
According to the Ministry of Health and Welfare, which oversees the pension fund that owns 7.2 percent of SK Holdings, the offer was too low. The health ministry said the committee that advises the NPS didn't reach a unanimous decision.
The NPS's decision is "regrettable," SK Holdings spokesman Lee Young Suk said, adding that other bodies including Institutional Shareholder Services Inc. endorsed the deal. "SK will do its utmost to boost shareholder value," he said.
Although the pension fund is big, Chae said he expects the deal at the nation's third-largest family run conglomerate, known locally as the chaebol, to go through.
A bigger and more controversial deal is coming to a vote on July 17.
Samsung Group's Lee family, seeking to solidify control over the nation's biggest chaebol amid a once-in-a-generation leadership transition, is trying to complete a deal that's similarly structured as SK's despite opposition led by U.S. activist investor Paul Elliott Singer, whose funds have said the offer is too low.
Similar Deal
Like in the SK proposal, Samsung is seeking to merge two units with group de facto holding company Cheil Industries Inc. proposing to buy Samsung C&T Corp. via an all-stock transaction.
Cheil, whose offer has been valued at below C&T's share price ever since it made the proposal in late May, was restricted from making a higher bid because of Korean rules requiring such deals to be made based on a pre-determined formula that averages prices over the preceding month. The regulation is designed to protect minority shareholders by preventing family-run groups from bailing out affiliates through exorbitantly high offers.
The deal is important for the Lee family, particularly heir apparent Lee Jae Yong, because C&T holds about $10.9 billion of shares in Samsung Group units.
The National Pension Service, C&T's biggest shareholder with a 10.15 percent stake, will be key in determining the outcome of the vote. Elliott's funds, which hold 7.12 percent of C&T, have vowed to oppose the deal. A representative for Singer's funds declined to comment on the pension fund's decision on SK.
And while the pension fund is keeping mum on which way it will vote on the Samsung deal, its decision with SK signals that it's no longer a given that it will side with local founding families.
"Today's decision is a warning sign from the NPS to the market that the fund won't tolerate acts that damage shareholder value," said Lee Jin Woo, a money manager at KTB Asset Management Co., which oversees $10 billion.
Before it's here, it's on the Bloomberg Terminal.
LEARN MORE