Adidas Places Messi Cleat Alongside New Models for Soccer Growth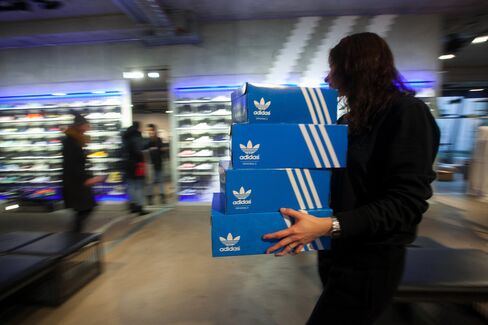 Adidas AG is placing its faith in three brands of soccer cleat, including one designed for Barcelona star Lionel Messi, as it seeks to get sales growth from the sport closer to that of the overall company.
The recently introduced X and Ace brands will join the Messi shoes to form the sportswear maker's cleat line-up, after Adidas said last month that it was ditching models including F50, Predator, Nitrocharge and 11pro.
Adidas said Wednesday it expects sales of soccer shoes and other gear to increase at a "mid-single digit rate" through 2020, after adjusting for currency effects. While that's faster than the overall market, growth from last year's 2 billion euros ($2.2 billion) trails Adidas's overall expansion goals.
The second-largest sportswear maker is trying to become more relevant to catch up with bigger and more-profitable rival Nike Inc. and jog last year's stagnant sales. Adidas plans to double sales of running shoes and increase its Originals streetwear revenue by 50 percent through 2020, the company said at an investor presentation at its Herzogenaurach headquarters in Bavaria.
"Football is changing," Adidas general manager Markus Baumann said. Teenagers are looking for more "emotional" advertising that showcases players as celebrities, in addition to shoes that perform well on the field, he said. The company continues to exploit its sponsorship with Argentinian soccer phenomenon Messi, whose Barcelona won the annual Champions League tournament in Europe this month.
In addition to rebranding its soccer shoes, Adidas plans to open "runbases" in Boston, Los Angeles and New York, where American consumers can check out gear. At a strategy unveiling in March, Adidas's head of global brands Eric Liedtke said the company would try to adopt a more open stance toward ideas from consumers about its products.
Adidas, which is targeting "high single-digits" growth in sales to 22 billion euros through 2020, has also forecast profit will increase 15 percent on average each year over the period. The company is currently seeking a successor to Chief Executive Officer Herbert Hainer, who's held the job since 2001.
Read this next:
Before it's here, it's on the Bloomberg Terminal.
LEARN MORE