Drunk or Stoned Adult Gave Me a Ride, 25% of U.S. Teenagers Say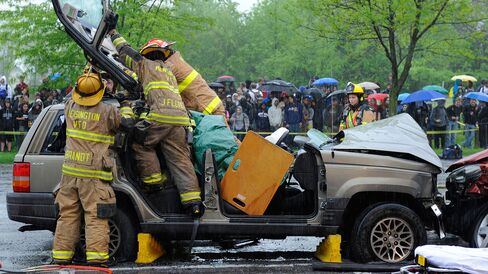 One in four teens in the U.S. report that they have been a passenger in a vehicle with an adult driver who was drunk or stoned, a survey by Allstate Corp. shows.
Twenty-one percent of teens cited at least one instance where a grown up was under the influence of alcohol behind the wheel, according to a report Wednesday from the Northbrook, Illinois-based insurer. Eight percent reported an adult who was impaired by marijuana. That compares with fifteen percent of teens who said they have been in a car with a teen driver who was under the influence.
Insurers have been highlighting how risky behavior can be passed on from parent to child. Boston-based Liberty Mutual Holding Co. found in a survey last year that U.S. parents often ignore warnings from their children against texting behind the wheel or driving while intoxicated.
"A lot of parents don't understand that they're the No. 1 influence when it comes to teaching their teens how to drive," Kyle Donash, a spokesman for Allstate, said in a phone interview. "That was one theme that came out, whether it was speeding, buckling up, or driving under the influence."
Forty-two percent of parents surveyed admitted to having driven under the influence of either alcohol or marijuana at least once, while 14 percent of teens made such an acknowledgment.
Almost half of the teens surveyed reported that they have been a passenger with an adult driver experiencing road rage, according to Allstate, the largest publicly traded U.S. home and auto insurer.
The survey was conducted for the insurer in January by Futures Co. and included a nationally representative sample of 1,552 people ages 15 to 19, and 1,535 parents of teens, according to the statement. Donash said it was up to the teens to determine who qualified as an adult for purposes of the survey.
Before it's here, it's on the Bloomberg Terminal.
LEARN MORE