Seven Books Worth Your Summer Downtime
Many of this season's top books riff on the working life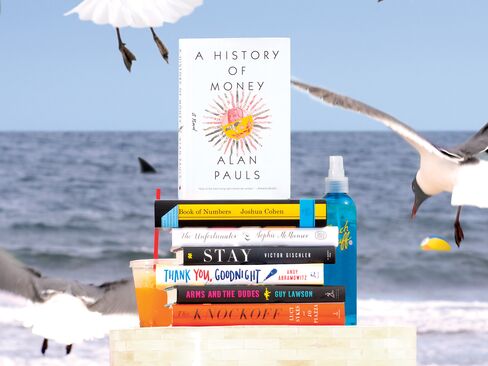 A History of Money
by Alan Pauls
An executive is en route to meet with striking factory workers when his helicopter crashes. He dies, and a briefcase full of money goes missing. A top Argentine novelist uses this incident to explore one family's relationship with cash—and the ways it destroys us.
Read if: You have wealth guilt.
Book of Numbers
by Joshua Cohen
This breakout novel from a young author follows a ghostwriter who pulls back the veil of the tech world in search of the meaning of life in the Internet era. At 592 pages, it's a commitment, but a worthwhile one.
Read if: You attend lots of dinner parties.
The Unfortunates
by Sophie McManus
Do flawed rich people deserve pity? This tale of Wall Street corruption, office politics, pharmaceutical trials, inheritance, class, and power tries to answer that age-old, but still relevant, question.
Read if: You enjoyed Pride and Prejudice.
Stay
by Victor Gischler
David Sparrow is loving life as a stay-at-home dad while his wife commutes—until his family is threatened by a crime lord. Suddenly, David's secret past unfolds. Saying more would spoil things.
Read if: You work from home.
Thank You, Goodnight
by Andy Abramowitz
Imagine you're a washed-up rocker who's settled into complacency as a corporate lawyer. The protagonist of this comedy comes to terms with his boring life until one call convinces him he has a chance to rewrite music history.
Read if: You've got a secret hobby you wish was your job.
Arms and the Dudes
by Guy Lawson
Back in 2007, three stoners from Miami won a $300 million U.S. Department of Defense contract to supply ammunition. Instead of following protocol, they pulled off one of the most deranged global arms scams in history.
Read if: You don't like fiction. Or are employed by the government.
The Knockoff
by Lucy Sykes and Jo Piazza
In this satire of the fashion and tech worlds, a glossy magazine editor discovers her former assistant is plotting to steal her gig and turn the publication into an app.
Read if: You hate your boss.
Camille Perri is books editor-at-large at Cosmopolitan.
Before it's here, it's on the Bloomberg Terminal.
LEARN MORE