U.S. Tops Colombia 2-0 to Reach Women's World Cup Quarterfinals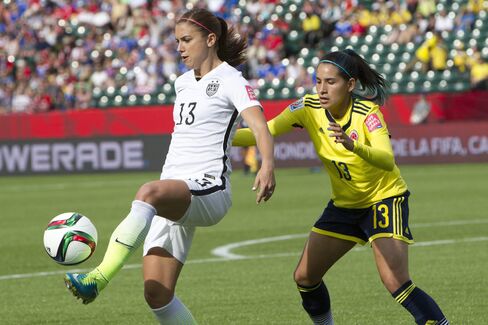 Alex Morgan and Carli Lloyd scored early in the second half and the U.S. defense held short-handed Colombia to two shots on goal as the Americans won 2-0 Monday to reach the quarterfinals of the Women's World Cup soccer tournament.
After a scoreless first half, Colombian goalie Catalina Perez was given a red card and thrown out of the game minutes into the second half -- forcing Colombia to play one person short and with backup goalie Stefany Castano the rest of the game.
Morgan's shot eight minutes into the second half deflected into the goal off Castano's left hand. Lloyd added the second goal 13 minutes later on a penalty kick at Commonwealth Stadium in Edmonton.
"We improved a bit," Lloyd told reporters. "We keep telling everybody we haven't peaked yet and we still have a few more games for that."
The U.S. will face China in the round of eight on Friday night in Ottawa. England won 2-1 against Norway in Monday's other match and will play Canada in the quarterfinals.
The Americans now have allowed 11 shots on goal in four games in the tournament, and have not conceded a goal in the last 333 minutes. In its last 14 games, the U.S. has outscored opponents 26-3.
Midfielders Lauren Holiday and Megan Rapinoe received their second yellow cards of the tournament Monday, which means they will miss the match against China.
Before it's here, it's on the Bloomberg Terminal.
LEARN MORE