South Africa Power-Tariff Increase to Help Eskom Buy Diesel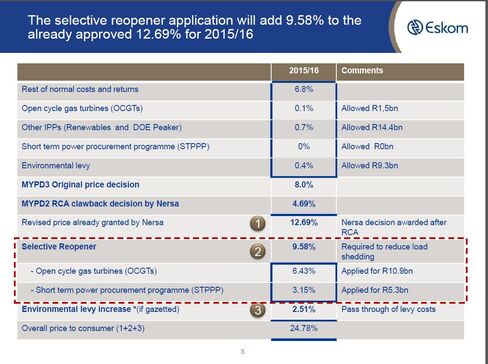 South Africa's power utility said it needs to raise prices by almost double the rate the regulator has so far allowed so the company can buy in electricity and diesel to help ease shortages in its own generation capacity.
"What we're here for is to ask for what we think is fair," Eskom Holdings SOC Ltd. Acting Chief Executive Officer Brian Molefe said at public hearings held by the national energy regulator in Johannesburg Tuesday.
Nersa, as the regulator is known, is holding two days of consultations after Eskom, which is struggling to meet demand in Africa's most-industrialized economy, asked to raise prices by as much as 25 percent. That's 12 percentage points more than first allowed for the year to March 31, 2016.
In October, the utility got permission from the regulator to increase charges by an average 13 percent starting April 1 to help it recover unbudgeted costs for the three years through 2013. The regulator had previously approved an average annual increase of 8 percent in each of the five years through March 2018. The inflation rate was 4.6 percent in May.
In its new price application, Eskom is asking for an additional 9.6 percentage points to fuel gas turbines that it uses as a last resort, and to carry on power purchases from companies such as Sasol Ltd. and Sappi Ltd.
Environmental Levy
It had also sought a further 2.5 percentage points to pay for a 57 percent increase in the environmental levy to 5.5 cents a kilowatt-hour, which was announced by Finance Minister Nhlanhla Nene in his budget speech in February, but has yet to be introduced. Should the National Treasury not charge the levy, Eskom won't have to ask for that amount, Molefe said.
If the levy is published in the Government Gazette after July 1, the associated tariff increase can only take effect in the year starting April 1, 2016, Nersa Chairman Thembani Bukula said in an interview Tuesday.
While the Chamber of Mines, which represents the country's biggest producers such as Anglo American Plc, notes Eskom's need for more funds, it doesn't support tariff increases.
"Government needs to explore other avenues to raise these funds," chamber Chief Executive Officer Roger Baxter said. The lobby is concerned whether the underlying causes of the power crisis, including delays in starting new generation capacity and increased breakdowns, have been adequately addressed, he said.
The proposed increase may result in as many as 40,000 additional job cuts in the industry, the chamber said in a presentation.
Sibanye Gold Ltd., the biggest producer of South African gold, would lose as much as 8.2 billion rand in revenue from 2015 to 2017 from operations that would have to be closed if the increase were granted, Technical Services Senior Vice President Peter Turner said. The company, which buys about 1.6 percent of the electricity the utility generates, forecasts a power bill of 4.1 billion rand by 2017, compared with 2.8 billion rand last year.
The City of Cape Town would need to pass on the additional 700 million-rand ($58 million) cost of purchasing power at the higher rate to customers, Deputy Executive Mayor Ian Neilson said at the hearing.
Before it's here, it's on the Bloomberg Terminal.
LEARN MORE