Over the weekend, you may have noticed your social media feeds get inundated with photos of your friends and their fathers, often capturing cute daddy-and-me moments long in the past. In looking through my digital stash of memories for something to post of me and my own pops, I found a snap of my father and me at a friend's wedding in the aughts. I thought, Wow, my dad looks great. Then: I remember that outfit! The shirt was Tommy Bahama and had a casual dressiness to it that seemed appropriate for the occasion, yet also relaxed, even fun. When I thought further, I realized it wasn't that particular shirt I remembered (there are many, many Tommy Bahama shirts in his life) but the feel of it.
Silk.
Silk shirts have had ups and downs when it comes to men's fashion. In recent years, they've come to be associated with bad thrift shops and even worse nightclubs. Think of them, and suddenly you smell Drakkar Noir, you get visions of Uncle Jesse from Full House, and the tunes of early Puff Daddy get stuck in your head. But this week the material started cropping up a lot during the mens fashion shows that just finished in Milan. This means that in a year or so, they'll be in high-end department stores and designer boutiques. Some time after that, they'll be in more mass-brand stores. In other words, silk shirts are coming back, my friends. You should be prepared.
I am not suggesting this emerging (dad?) trend will become an essential piece of your wardrobe, or even a part of your wardrobe at all. But it's one you should know about because it'll be around. Here are some of the versions from Milan—including some elegant hits and extremely bizarre misses.
HIT: Marc Jacobs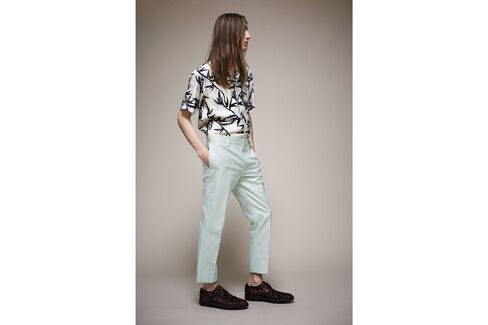 This short-sleeved, piped, pajama top by Marc Jacobs is whimsical, as a Hawaiian-print shirt should be, but it's also relatively tasteful. The designer pulled that off by pairing it with faded pastel slacks. If you were going to wear this look in real life, you'd want to skip the glittered monk strap shoes and opt for a pair of simple lace-up sneakers.
HIT: Dolce & Gabbana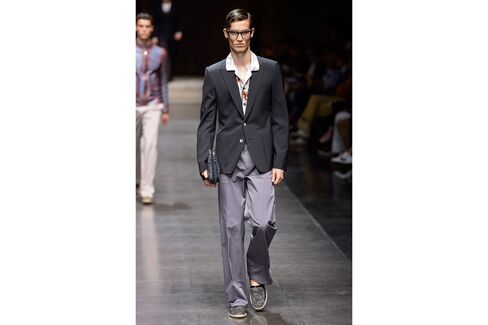 This is definitely more of an adventurous option: an eccentric, Chinese Palace-inspired print shirt by Dolce & Gabbana. To make it look less crazy, they paired it with a conservative blazer and slacks so just a hint of it peeps out.
MISS: Gucci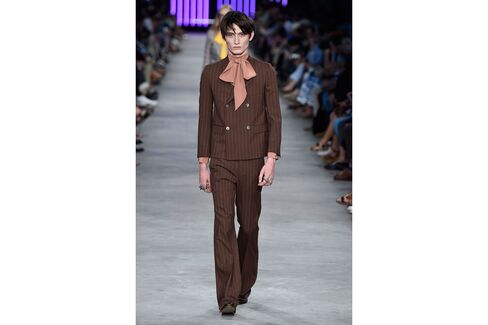 I want to believe in the new creative path Gucci has taken under the leadership of new creative director Alessandro Michele, but I have to go with a hard "NO" when it comes to silk tops for men (or tops in any fabric!) that tie around the neck.
HIT: Etro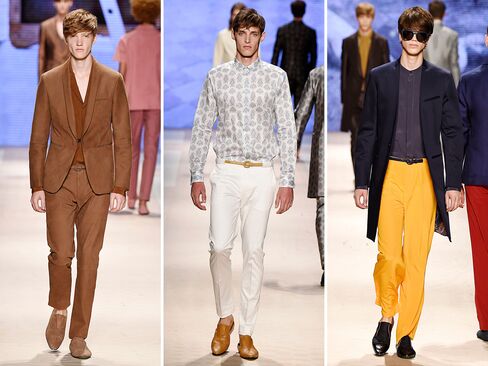 The collection that Kean Etro of Etro presented this season was full of silks, handled simply and well. I couldn't pick just one look. From left to right: a casual suit in earth tones with a deep-cut neckline, a simple pattern on a silk shirt against basic white pants, and a Nehru collar buttoned all the way up. (Are you ready for collarless shirts to come back, too? Don't worry, that's not really a thing. Yet.)
HIT: Bottega Veneta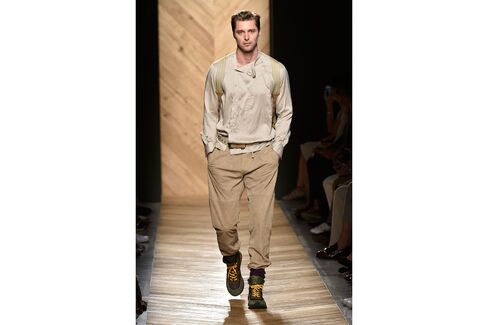 Whether you consider this top by Bottega Veneta a shirt or a jacket, it's definitely a more modern twist on the silk trend. Leave it to designer Tomas Maier to couple it with suede, a summer fabric that has been all over the runways this season.
MISS: Prada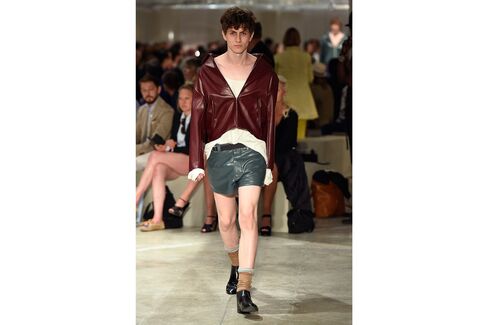 While I applaud an effortless half tuck—and this ambitiously designed collection by Prada—I can't in good conscience suggest that you attempt a boatneck blouse. Don't even get me started on the leather shorts here—and the footwear situation.
Nic Screws is the style director at Bloomberg and will be reporting all month from the runways of Europe. Follow her on Instagram and Twitter, or e-mail her any of your fashion concerns or questions at nscrews@bloomberg.net.
Before it's here, it's on the Bloomberg Terminal.
LEARN MORE