Scene Last Night: Fessing Up to Smoking Pot as '80s Music Plays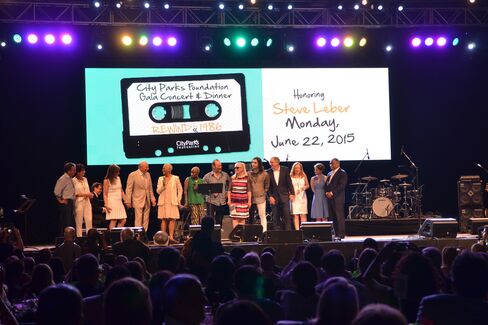 Weed was part of polite conversation at the City Parks Foundation benefit Monday night.
"Truth is all of us partied, smoked pot and made out to music that Steve Leber helped make popular," foundation Chairman David Moore, a private-equity investor, said as he introduced the honoree.
Notably he was speaking in the past tense of an era when Leber managed Joan Jett, Aerosmith, Def Leppard and Michael Bolton. These days, Leber is chairman and co-chief executive officer of Grandparents.com.
As for the gala: the main scent in the air was the sweet perfume of the Linden tree.
The event was held at SummerStage in Central Park, where City Parks Foundation arranges free music, theater, spoken-word and comedy. The Central Park venue at 72nd Street is also the site of benefit concerts that fund SummerStage programming in parks throughout the city. (The Kooks perform in one on Wednesday.)
For the foundation's annual gala, things were a bit fancier than usual, and included a seated dinner and concert over dessert. The music had a 1980s theme in honor of the year, 1986, that SummerStage was founded.
Guests talked about their favorite bands over dinner: Howard Lutnick said he was more of a classic rock guy, Pink Floyd and the Rolling Stones. Ron Baron said he liked Billy Joel, who has performed at his conference, and Bruce Springsteen.
Some guests were born in the '80s, like Trevor Winstead, of Apollo Global Management, and Danny Pellegrini, of the hard-rock band Rebel Millennial.
Charleston's Pain
As a gala co-chairman, David Barse, CEO of Third Avenue Management, went on stage with Dionne Warwick (and Moore, Leber and a bunch of others) to sing "Thats What Friends Are For." Warwick also sang "What The World Needs Now Is Love," a song that "rings very true to this day, in light of the things that have been happening," she said.
Angelique Kidjo specifically mentioned the nine killed in Charleston, calling for love not violence as she broke into a medley featuring Bob Marley's "Redemption Song."
Debbie Harry performed a slow version of "Heart of Glass" and told a meandering story involving her mother's nail-polish drawer and a guy she dated.
And Colin Hay, of Men at Work, spoke of his "love of the weed" when he started writing songs like "Down Under" and "Who Can It Be Now?"
"I will admit that I did write all those songs extremely stoned on very strong marijuana," Hay said. "I'm not trying to condone its use on any impressionable people in the audience but it certainly worked for me."
Eating Grass
Hay then told the story of a goat he and his housemates once brought home to take care of their unkempt lawn.
"We put him in the yard and after a couple of days he decided he was one of us and didn't want to eat the lawn either," Hay said. Instead the animal came inside and "watched the television with us, and got really whacked on second-hand marijuana smoke."
All this high talk served a higher purpose: enriching the backyards of New Yorkers. This year, the City Parks Foundation increased its budget by more than $1 million, resulting in 25 added shows in 16 neighborhood parks, said Executive Director Heather Lubov.
The foundation also offers free instruction for youth in tennis, golf, and track and field.
"I like to think of the City Parks Foundation as the software for the parks of New York," Moore said. "We bring people into the parks and we help local groups organize support for their parks in their own neighborhoods. We make New York more livable by making parks more engaging."
"Keep Off The Grass" signs notwithstanding.
Before it's here, it's on the Bloomberg Terminal.
LEARN MORE