Plaza Sale for India Magnate's Bail Blocked by Jilted H.K. Firm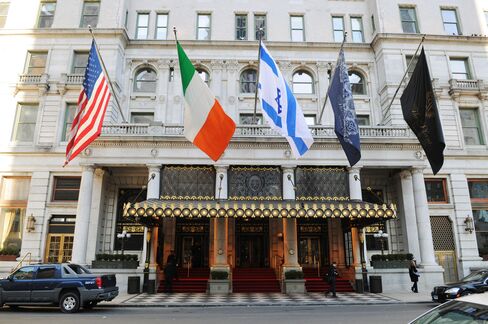 The sale by an Indian conglomerate of London's Grosvenor Hotel and New York's Plaza and Dream hotels, part of a bid to pay the bail of its jailed majority owner, has hit another snag.
A Hong Kong investment company claims it was unfairly shut out of the deal.
JTS Trading Ltd.'s U.S. lawsuit seeks to block Sahara India Pariwar from going ahead with the sale of the hotels. The move may hamper Sahara's effort to raise $1.6 billion bail for controlling stakeholder, Subrata Roy. He was jailed in India last year for failing to comply with a court order to repay investors.
JTS Trading claims it struck a deal with a United Arab Emirates private trust to finance the purchase of the three hotels, with JTS trading getting a 70 percent stake for its $850 million investment. The company said it was shut out when a Sahara subsidiary made a separate deal with the UAE company, Trinity White City Ventures Ltd.
Sahara is attempting to raise money for Roy's release. He was sent to prison in March 2014 after India's markets regulator said the company should repay investors $3.9 billion for selling a convertible debt instrument without approval.
Roy failed to convince an Indian court that Sahara had refunded the money raised from 30 million investors.
India's Directorate General of Economic Enforcement also alleged the Sahara investors "are fictitious identities created to conceal an even more nefarious money-laundering operation," according to JTS Trading's filing in New York state court.
Administrator Named
The Indian court appointed an administrator to oversee the sale of the Grosvenor Hotel, but Sahara averted the enforced sale after negotiating a deal with David and Simon Reuben, the U.K.-based investors with stakes in real estate, pubs and racing tracks who are valued at $6 billion each, according to the Bloomberg Billionaires Index.
The investor-duo were in final discussions to take over loans owed to the Bank of China, according a statement from Sahara.
"The deal restores Sahara's ability to renegotiate the loan terms with the new lender, or with third parties," the company said in the June 7 statement.
Pune-based billionaire Cyrus Poonawalla, owner of the world's biggest vaccine maker, Serum Institute of India, as well as the Sultan of Brunei were also said to be interested in buying the hotels in 2014. No agreements were reached.
Roy built the Sahara empire over the past 37 years and it now includes overseas hotels, television stations, a hospital, a dairy farm, retail shops and a stake in India's only Formula One racing team. He built his business by collecting as little as 32 cents a day from rickshaw pullers, laundry washers and tire repairmen.
The case is, JTS Trading Ltd.v. Trinity White City Ventures Ltd., 651936/2015, Supreme Court of the State of New York (Manhattan).
Before it's here, it's on the Bloomberg Terminal.
LEARN MORE