Signs Swedish QE Backfiring as Liquidity Evaporates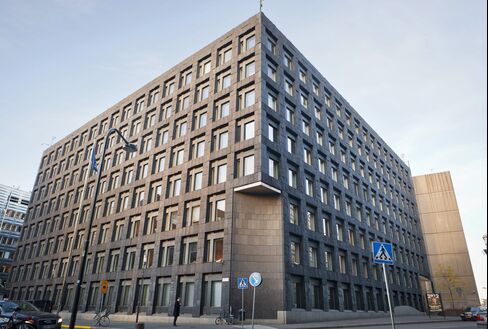 It's probably not what the Riksbank expected.
Quantitative easing is supposed to drive down longer-dated yields. But as investors obsess over market depth, the Riksbank's bond purchases are undermining liquidity and driving Swedish yields higher.
"The financial conditions -- the currency and the bond yields -- are moving in the wrong direction," Roger Josefsson, chief economist at Danske Bank A/S in Stockholm, said by phone. The assumption is that "the Riksbank wants yields to go down and the krona to weaken, but it's been the opposite direction recently. That should pose a problem."
Sweden's 10-year government-bond yield, which traded as low as 0.2 percent in April, was at 1.1 percent on Tuesday. Its five-year yield was 0.4 percent, after trading below zero just two months ago. And though Swedish yield spreads have narrowed relative to German bonds, investors can still earn about 15 basis points more by holding AAA-rated 10-year notes issued by Sweden than they can holding similar notes from Germany.
"Swedish rates continue to trade strong relative to Germany because of a lack of material in the repo market as a result of the Riksbank's QE program," Danske said in a note on Tuesday.
Krona's Allure
Meanwhile, the extra yield is adding to the appeal of the krona. Since the Riksbank started its bond-purchase program in mid-February, Sweden's currency has appreciated more than 4 percent against the euro. It's up 5 percent against Norway's krone and is 3 percent higher versus the dollar.
Nordea Bank AB estimates the krona is trading about 3 percent above the Riksbank's forecast, based on the trade-weighted exchange rate. That will make it harder for the bank to prevent disinflation as import prices decline.
The Riksbank targets about $10 billion in government bond purchases as it tries to revive consumer-price growth after months of deflation. That's about 14 percent of the market or 3 percent of Sweden's gross domestic product. Any efforts to expand asset purchases would deplete Sweden's already limited sovereign debt supply, SEB AB and Danske Bank have said.
The central bank is monitoring the spread between Swedish and German bonds, Deputy Governor Martin Floden said on Monday. Policy makers have also noted that the krona has strengthened recently, he said. The bank will take the development into account at its monetary policy meeting on July 1, Floden said.
Abandoned Forecasts
The Riksbank in March unexpectedly cut its key rate to minus 0.25 percent and expanded asset purchases. At the time, there was some speculation another cut may come in July.
But the latest price developments have forced analysts tracking the Riksbank to scale back their predictions for more easing.
"As the current QE program continues until September, expectations of something new in terms of new bond buying in July are very low," said Jussi Hiljanen, head of fixed income strategy at SEB in Stockholm.
An SEB survey of the largest Swedish bond-market investors published on Wednesday showed 88 percent of respondents don't expect the Riksbank to deliver a rate cut next month.
While Josefsson at Danske Bank expects yields to fall again, "it will be very difficult for the Riksbank if there is a more pronounced strengthening of the krona," he said. There "may be a Grexit lurking, and if that happens, one could imagine that the krona would strengthen, and that the Riksbank may want to counteract."
Read this next: