Mizuho Reaffirms Commitment to Cut Shares in Other Companies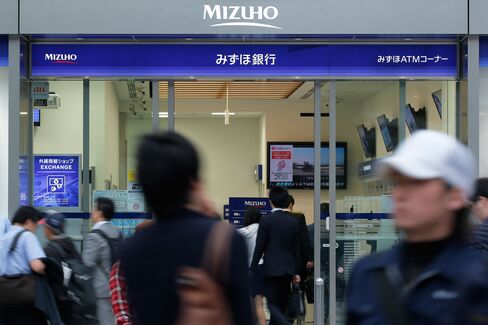 Mizuho Financial Group Inc. reaffirmed its commitment to reduce the shares it owns in other companies in response to new Japanese governance rules.
"It's important to realize gains on shareholdings," Chief Financial Officer Junichi Shinbo told more than 3,000 investors at their annual meeting in Tokyo on Tuesday. "We will start the unwinding process soon and sell shares that need to be sold."
Japanese banks are facing pressure to more aggressively trim stakes in other companies that they traditionally held to cement ties with clients. A corporate governance code took effect this month requiring companies to justify why they hold shares in others, to ensure they use capital effectively.
Mizuho pledged on June 1 to dispose of cross-shareholdings unless they are "meaningful." The policy change reflected the potential impact of stock-market volatility on the bank's financial position as well as the governance code, it said.
Japan's biggest banks still have about 16 trillion yen ($129 billion) in cross-shareholdings, down from a peak of 39 trillion yen, Bank of America Corp. analyst Nana Otsuki wrote in a June 2 note. Tokyo-based Mizuho, the country's third-biggest bank by market value, owned about 4.1 trillion yen as of March 31, Otsuki estimated.
Shares of Mizuho jumped 4.6 percent to 270.5 yen at the close of Tokyo trading on Tuesday amid optimism that Greece will end a standoff with its creditors. The stock has surged 34 percent in 2015, more than the benchmark Topix index's 19 percent advance, after the bank raised its dividend and forecast profit will increase this fiscal year.
Before it's here, it's on the Bloomberg Terminal.
LEARN MORE