Sports
Kevin Durant Reveals the Nike KD8, Channels Inner Saber-Toothed Tiger
"I worked my tail off to get here"
Kevin Durant could use a Red Bull.
Sure, the six-foot, nine-inch Oklahoma City Thunder forward is dutifully answering my questions about his new Nike KD8, his eighth in a multimillion-signature shoe line, but he isn't exactly perky. At least, he wasn't until I asked about his latest tattoo.
It could be because the Thunder failed to make the playoffs, or because the patience required to heal properly from a recent foot surgery proved emotionally taxing. Maybe he just hates press junkets. I would.
But he definitely doesn't hate saber-toothed tigers.
Turns out the snarling one tattooed on his calf has much to do with the design of the KD8, especially its first-ever Zoom Air sole: The two thick foam spikes along the back of the heel look like the upturned teeth of a vicious cat.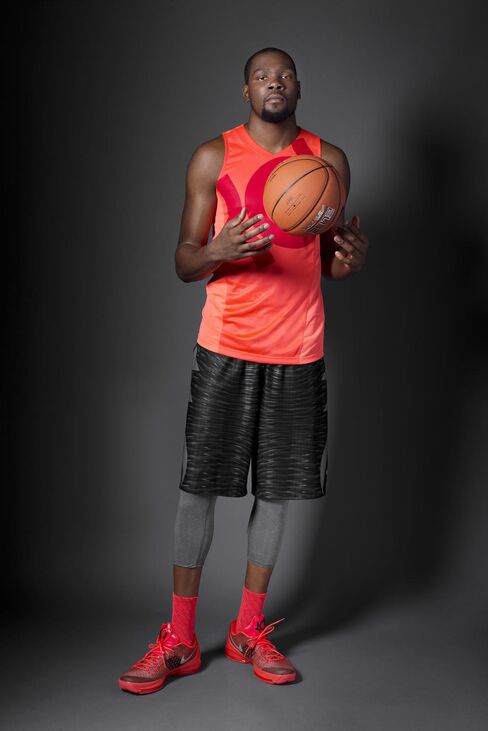 "Something Different"
"I'm just infatuated with saber-toothed tigers," Durant said recently in Oklahoma City, mentioning that he had researched them extensively before asking famed LA tattoo artist, Dr. Woo, to ink one on his leg. He said he identified with its Ice Age soul and unique killer instinct. "It's something that I didn't see a lot of people with. You're used to seeing tigers and lions—I wanted to do something different."
In fact the entire line of new color options for the $180-a-pair KD8 is different, too. Each combination relates directly to some of Durant's best—or worst, if you consider hill repeats a bad thing—life memories.
To wit: One version of the shoe comes in the orange-and-pink tones you'd see in the sky at sunrise. A second version is all dark grey, like a cool fall evening. Those two colorways evoke the morning-till-night attitude Durant instilled in himself every time he ran repeats up Hunts Hill, a suburban incline he crested thousands of times as a teenager struggling to get in shape.
Then there's the matte red of the KD8 V8, which is the same color as the Chevy Camaro V8 Durant had customized in 2010, when he started making real money.
"I remember I would pull up somewhere and people would be taking pictures, and I would see it on social media," he said with a big smile. "People really showed me love when I was driving something different. And nowm whenever I look at this shoe, it reminds me of the good times I had with the car."
Another version of the shoe, called KD8 July 4th, comes, as expected, in red, white and blue schematics. Those reflect Durant's memories of family barbecues and fireworks during his favorite holiday.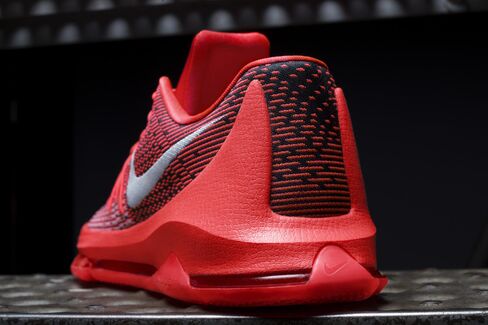 The final color scheme, a vibrant purple option called the Suit, matches the eggplant blazer Durant wore last year, when he accepted his most valuable player trophy. That ceremony was when Durant famously cried and profusely thanked his mom for her sacrifices and support throughout his career. It became known simply as the Speech, and it solidified his nice-guy reputation, both on and off the court. (Notwithstanding his extensive tattoos and a more annoyed stance in press conferences of late.)
You're on pretty safe ground as a reporter, though, if you ask Durant about retro sneakers. He got his first pair when he was nine; they were blue and white Grant Hills.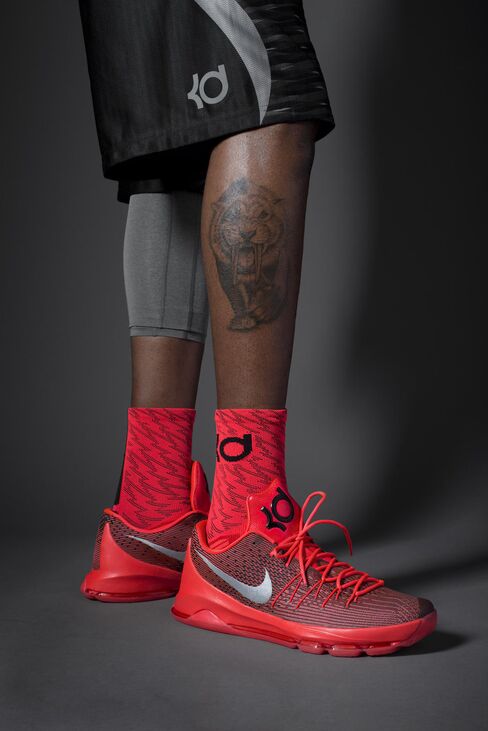 Beyond Jordan
Durant said they changed his life perspective.
"I felt like if I put those shoes on, I could be like him," Durant said. "Obviously, that wasn't true. But as a kid, your imagination is always growing. That's when I started realizing that basketball was bigger than just Michael Jordan."
Durant had always wanted to be part of the elite group of players who have their own signature shoes, especially Penny Hardaway and Vince Carter. It's rarified air. At Nike, there are only four besides Jordan: LeBron James, Kobe Bryant, Kyrie Irving, and Durant. According to Footwear News, the five players account for more than 90 percent of sales across the entire basketball shoe market.
And counting.
"I worked my tail off to get here," Durant said. "I didn't think I would have this opportunity. But you see the world differently as a kid as far as your imagination will go. Hopefully, I get to give that feeling to other kids as well."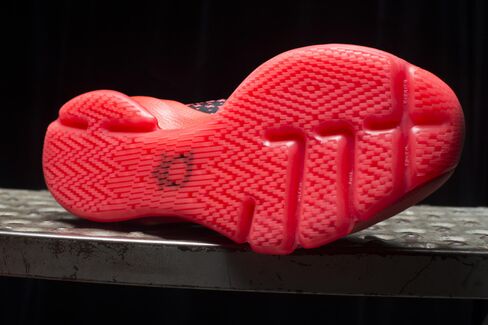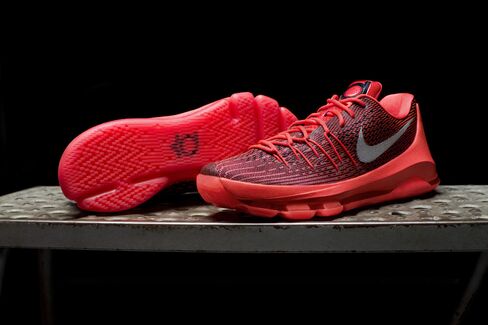 The KD8 makes its debut on NIKEiD online on June 23 in limited quantities; more colors will be available in staggered release from June 27 on.
Before it's here, it's on the Bloomberg Terminal.
LEARN MORE