Kardashian Tube Skirts Bring Shoppers Back to Slim's Sanborns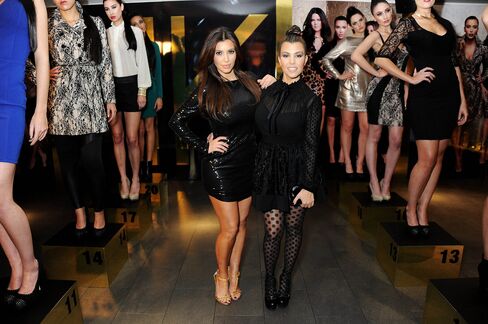 Grupo Sanborns SAB, the retailer that owns the Sears brand in Mexico, is regaining investor confidence after stock losses since its initial public offering two years ago.
Sanborns has climbed from a record low share price last year after revamping stores and selling trendier clothing like Kardashian Kollection tube skirts and Xoxo dresses. Billionaire Carlos Slim's company has been slow to expand since its February 2013 IPO. Now it's picking up that pace, with new or renovated locations estimated to make up 38 percent of total stores by year-end from 16 percent last year, according to Credit Suisse Group AG.
Job growth and higher wages and remittances are supporting a recovery in Mexican consumer spending, UBS AG economist Rafael de la Fuente said in a research note last week. Same-store sales beat analysts' estimates in May and consumer confidence has increased alongside an improving job market. Remittances also gained as Mexicans living abroad sent home U.S. dollars, which have jumped 18 percent against the peso in the past year.
Sanborns has "applied measures that will give it more profitability," Jose Maria Flores, an analyst at Ve Por Mas SA in Mexico City, said in a phone interview. The company has "improved the distribution of stores, so it's more efficient in terms of the products it sells, as well as focused on offering products with better margins."
Rising Sales
The stores' renovations, which have lifted sales by an average 20 percent per location, may boost the stock to 31 pesos this year, about 26 percent above its current price, Credit Suisse analysts led by Antonio Gonzalez wrote in a May 13 note.
"Sanborns is at an inflection point," said Gonzalez, who has an outperform rating on the shares. It is "positioned to recover some lost ground in the coming quarters as the company accelerates its expansion and refurbishment execution."
Sales increased 10 percent in the first quarter as recently remodeled locations' performed better, more people visited stores and the average sales slip increased, the company reported in April. Sanborn's strategy will also be helped by a sustainable recovery of consumer spending in Mexico, which is set to increase 3.3 percent this year, UBS estimated.
Sanborn shares have gained 6.8 percent this year to 24.54 pesos. The stock, which dropped to a low of 20.88 in October, were priced at 28 pesos when the company went public.
A representative of Sanborns didn't respond to requests seeking comment. Sears has performed well both in fashion and on big ticket items, Angelica Pina, of the company's investor relations unit, said on a conference call with analysts in April. She said the brand is "being very careful with the promotions" to protect margins.
Expansion Plan
Sanborns gets about 52 percent of its 41.2 billion pesos ($2.69 billion) in annual revenue from Sears, with the rest coming from a collection of convenience stores, specialty retailers and restaurants.
The Mexico-City based company originally planned to open 37 Sears stories in a five-year plan that extends through 2018, according to media reports. Sanborns has opened six Sears since its IPO, according to Credit Suisse.
At the same time, the growth and remodeling costs are taking a toll on the company's Ebitda margins, which have shrunk to 11.2 percent in the first quarter from 12.5 percent in the same period of 2013.
While Sears Holdings Corp.'s stores in the U.S. target blue-collar shoppers, the stores in Mexico have a higher-end clientele. While the old stores tend to be darker and more cluttered, the remodeled stores feature bright and modern displays with a sleeker look.
The celebrity Kardashian sisters' clothing line debuted in Mexico last year and is carried exclusively there by Sears. Kim Kardashian has been a boost for businesses in the U.S. Her popular video game has lifted the shares of its publisher, Glu Mobile Inc.
Even so, the retailer will have a hard time luring customers from established competitors such as El Puerto de Liverpool SAB, according to Luis Willard, an analyst at Corporativo GBM SAB.
"Sears is trying to bet high on apparel, but it's too soon to see if the renovations will have a mid- to long-term impact," Willard said "There needs to be a change in the consumer mindset."
Before it's here, it's on the Bloomberg Terminal.
LEARN MORE