Iran's Khamenei Rules Out Decade-Long Freeze of Nuclear Program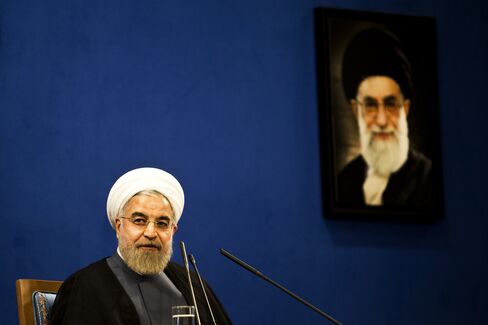 With days left before the deadline for a nuclear accord with world powers, Iran's Supreme Leader Ali Khamenei set out red lines for the Islamic Republic's negotiators that show the obstacles to a deal.
"Economic, financial and banking sanctions, whether by the United Nations Security Council, U.S. government or Congress, must be lifted immediately after the deal is signed," Khamenei said in an address to senior government and military officials, according to the Islamic Republic News Agency.
Other sanctions should be "lifted in a reasonable time," while international inspections of military sites and restrictions of a decade or more on Iranian nuclear work aren't acceptable, Khamenei said.
"We have told them how many years of limitations we are ready to accept," he said. The ability for Iran to continue research and development of its nuclear program is also an Iranian red line, Khamenei said.
The comments come a day after European foreign ministers urged Iran not to backtrack from the preliminary accord reached in April. According to the U.S. fact sheet released at that time, Iran agreed to enact deep cuts in its nuclear capability for a decade, and allow intrusive verifications by the International Atomic Energy Agency inspectors.
"We are against the other side to postpone their obligations pending verification by the IAEA," Khamenei said. "The agency has proven again and again that it is not trustworthy."
Diplomats including U.S. Secretary of State John Kerry and his Iranian counterpart Mohammad Javad Zarif are due in Vienna for the final phase of talks starting this week. Officials on both sides have signaled they are ready to extend the self-imposed deadline of June 30.
Before it's here, it's on the Bloomberg Terminal.
LEARN MORE