India Strongest Story in Asia for GAM as Rupee Loses Fragile Tag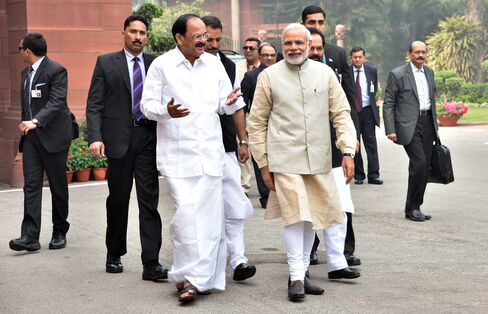 Improvements in India's current-account and inflation along with its high yields make the nation the top Asian investment for GAM, a group with $127 billion in assets.
A lot of the vulnerabilities that led to the 2013 rout in the rupee along with the currencies of Brazil, Indonesia, South Africa and Turkey have been almost wiped out in India, Paul McNamara, London-based investment director, said in an interview. The fund is overweight on both Indian government bonds and the rupee. It sees the currency holding steady at around 64.5 per dollar by year-end and the 10-year yield between 7.50 percent and its current level of 7.77 percent.
"If you talk about the fragile five, India is far and away the clearest country to exit that group," McNamara said. "They have a central banker of international renown who is cautiously trying to change the situation," he said. "India is the strongest story on the continent."
The following charts show how the rupee has outperformed the currencies dubbed the "fragile five" by Morgan Stanley in 2013, the current-account deficit narrowing, slower inflation boosting real yields and foreign reserves climbing under the stewardship of Reserve Bank of India Governor Raghuram Rajan.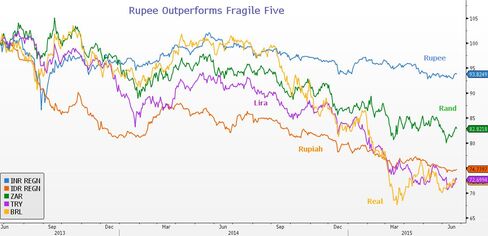 CHART 1. The rupee has gained about 8 percent from a record low 68.845 a dollar in August 2013. The currency's 6.3 percent drop over two years is less than half the pace of declines in Brazil's real, Indonesia's rupiah, South Africa's rand and Turkey's lira.
"In 2013, Asian currencies fell against absolutely everything because they had big current-account deficits," McNamara said. "A lot of the vulnerabilities have been reduced, and in India's case almost wiped out."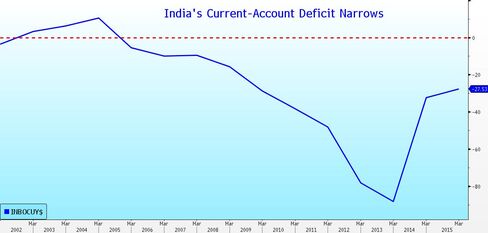 CHART 2. India's current-account deficit narrowed to a seven-year low of $27.5 billion in the year ended March, from a high of $88 billion in 2013. As a percentage of the gross domestic product, the shortfall declined to 1.3 from a record 4.7 percent, helped by gold-import curbs and lower oil prices.
"The deficit will be 1 percent this year," McNamara said. "India is going to have to break this gold addiction. It's an important building block to have a currency people can trust."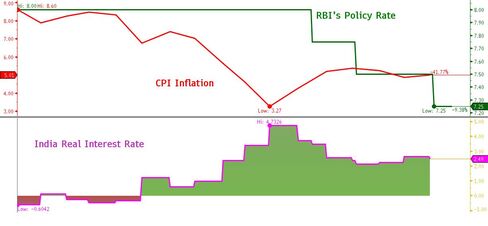 CHART 3. Gains in consumer prices slowed to 5.01 percent in May from 8.33 percent a year earlier, allowing Rajan to cut the benchmark rate 75 basis points in 2015. Inflation-adjusted borrowing costs are higher than in South Africa, Indonesia and Turkey, but lower than in Brazil.
India's "real interest rates are extremely high," McNamara said. "It looks like the monsoon will be O.K.," helping protect harvests and curb food prices, he said.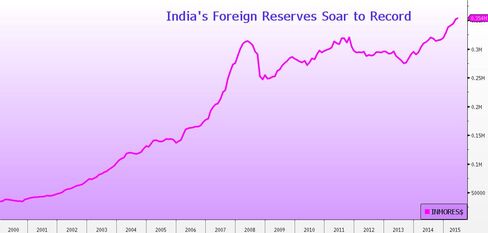 CHART 4. Foreign-exchange reserves surged to a record $354 billion. That along with faster growth and reduced deficits provide India with layers of defense to tackle any volatility in fund flows, Rajan said May 22.
"Rajan does have the idea of building the credibility of the rupee," McNamara said. "In most of the positive stories, like Poland and Mexico, a central banker came in and killed inflation expectations and encouraged people to keep savings in the local currency."
Before it's here, it's on the Bloomberg Terminal.
LEARN MORE