A national anti-corruption drive produces such a large fiscal windfall that the country's prime minister, battling accusations of malfeasance himself, tries to use it to save his political career. Sounds improbable?
It's actually happening in Romania, where Prime Minister Victor Ponta is facing an investigation over suspected forgery and money laundering. Meanwhile, a surge in anti-graft raids is also curbing tax evasion, handing his government the longest streak of monthly budget surpluses in a decade.



Is Ponta using that money to reinforce the fiscal responsibility that marked his three years in office, and helped him to bring the nation's fiscal gap back within European Union limits? No. Instead, he plans to win public support by using the bonanza to cut taxes.
``Political survival is what drives the PM's agenda, not sound economic policies,'' Standard Bank analyst Demetrios Efstathiou said in an e-mailed note. ``There are risks of policy errors over the next 12 months.''
The embattled premier of the European Union's second-poorest member has good reason to ply voters with goodies, with a general election looming next year. President Klaus Iohannis, his opponent, is calling for his head. Lower taxes will provide a shot in the arm for consumers, who're already driving the bloc's fastest economic growth.
Ponta is already looking to loosen the purse strings. This week, he proposed increasing and accelerating VAT cuts that had been planned for January. At a debate in the Romanian parliament on Wednesday, Finance Minister Eugen Teodorovici said that while the measures will lead to a worse budget shortfall than planned, the country won't exceed the EU's 3 percent deficit limit.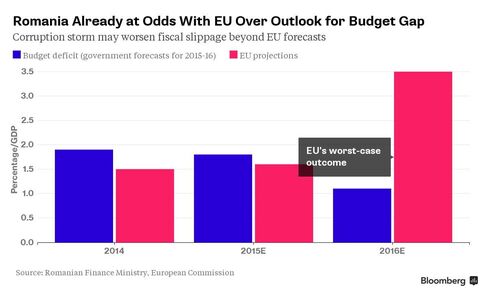 The question is, how far will Ponta's fiscal loosening go? Even before being caught up in the scandal, he'd approved changes that included slashing the sales levy on food. The European Commission warned at the time that the budget deficit could balloon back beyond its limits next year if the cuts go through.
So even if he survives the corruption investigation, Ponta may have put the economy right back where it was when he started.
Before it's here, it's on the Bloomberg Terminal.
LEARN MORE