Germany Creates Jobs While Greece Destroys Them
Bodies employed really, really matter to the political economy of a nation. Greece is in depression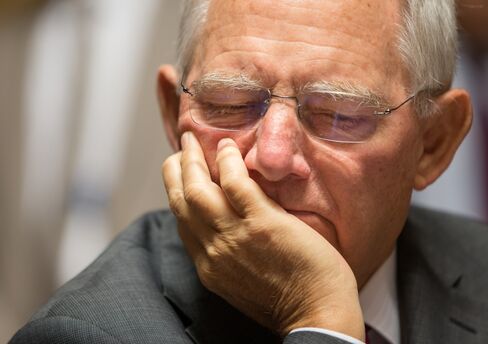 If you want to feel really depressed about Europe's future, read the op-ed article by Wolfgang Schäuble, Germany's finance minister, that was published Wednesday by The New York Times. It's a flat-out rejection of everything we know about macroeconomics, of all the insights confirmed by European experience these past five years. In Mr. Schäuble's world, austerity leads to confidence, confidence creates growth, and, if it's not working for your country, it's because you're not doing it right.
—Paul Krugman, April 17, 2015, the New York Times
One measure—many would say the only measure of an economy—is how many people have gainful employment. (The Oxford English Dictionary has a first citation of gainful in 1561: "By this pretence they make most gainefull markets.") It is a blunt statistic and a messy time series, but often the number of bodies employed can tell a lot about a nation. Professor Krugman makes an austere criticism of Germany's austerity. I would emphasize the importance of "confidence." The distinction is how confidence is engendered and sustained. It is a most interesting behavioral nuance steeped in the culture and history of a nation.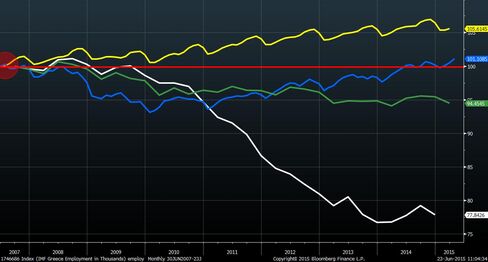 In the above chart, each time series, taken from IMF data, tells a different story about how four nations have done from the advent of the financial crisis. (I place the beginning near August 2007. These four series are "normalized," or set equal, at the end of June 2007.) Germany, in yellow, is the standout performer, with 6 percent more people employed. The growth is very stable and speaks volumes about the country's effort to keep people employed during the worst of the Great Recession. The U.S., in blue, has seen 1 percent job growth, using this calculation. The U.S. shows a sharp "clearing of markets" in 2008 and 2009 and then a robust recovery, with accelerating job growth in recent quarters. Italy, in green, does better than the U.S. in 2008 and 2009 but then drifts into a lethargic trance and has delivered a 6 percent decline in employed. And then there is Greece. Athens is not "confident." Greece, in white, is not in recession but rather, depression. There is a 22 percent decline in employed, with no end in sight. Megan Greene, of Manulife Asset Management, emphasized on Bloomberg Radio that Greece's malaise would continue "for years."
Bodies employed really, really matter to the political economy of a nation. And the charted series have a wonderful way of clarifying what has actually happened.
Here is the flip side: The unemployment rates of these four nations are: Germany, 6.4 percent; the U.S., 5.5 percent; Italy, 12.4 percent; and Greece, 25.8 percent.
Discuss
Before it's here, it's on the Bloomberg Terminal.
LEARN MORE