Flug Surprise Has Investors Thinking Anew on Israel Rate Tactics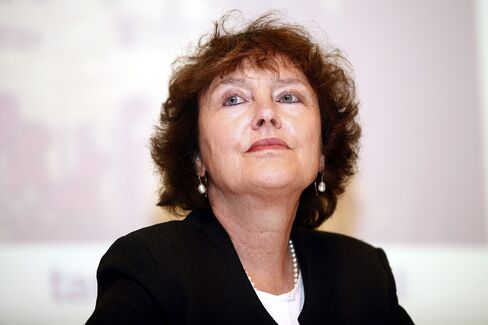 Bank of Israel Governor Karnit Flug, living up to her reputation as one of the hardest central bankers to read, surprised markets this week when she played down the chance of using unconventional tools to spur inflation.
The move got investors reassessing their strategies in Israel, where the central bank has been trying to weaken the currency and stoke economic growth for years through a combination of interest rate cuts and U.S. dollar purchases. The shekel strengthened the most since March and stocks reversed gains after Flug's comments.
Below are the views and strategies of eight investors, analysts and economists following the policy shift:
Zvi Stepak, the Tel Aviv-based chairman of Meitav Dash Investments Ltd., Israel's second-largest investment house, which has more than $37 billion in assets:
"One has to be defensive in bonds and aggressive in stocks. Look, the base rate was never going to stay at 0.1 percent. If you believe the Fed is going to raise rates, then the Bank of Israel will have to as well, even if it has to wait a little. We're not talking about a hike from 0.1 percent straight to 3 percent. It will be gradual, which isn't going to cause a selloff of stocks. But the yield on longer-duration bonds is still too low."
Dorothee Gasser, the London-based chief economist at ING Bank NV and the top shekel forecaster for the past two quarters:
"The euro-dollar should reach parity by the end of the fourth quarter this year. So the U.S. dollar will do a good part of the work for Flug and I think her statement does not rule out more forceful foreign-exchange intervention if need be. In the short term, the dollar-shekel is likely to test lower, which we would see still as an opportunity to buy dollars."
James Burton, a London-based strategist at Nomura International Plc and the second-best shekel forecaster in the first quarter:
"This is a turning point. We have been long on the U.S. dollar, looking for the Bank of Israel to take measures to weaken the currency after highlighting that its strength would damp growth. We are now stopping the trade. We would expect the Bank of Israel to buy foreign exchange relatively heavily in the next few days to prevent the shekel from strengthening too rapidly versus the basket. Because of the rhetoric, we would also not expect a further rate cut in the near term."
Amir Gil, who manages 70 billion shekels ($18.6 billion) as Provident Funds & Pension chief investment officer at Tel Aviv-based Psagot Investment House Ltd., Israel's largest investment house:
"What's clear is Flug eliminated the chance of another rate cut. And at the moment, the local bond market isn't a very friendly place to be. We're very careful and prefer government bonds of short- and mid-term durations. A rate hike isn't priced into longer bonds, and we're waiting for yields to go up. We do think there will be opportunities to buy longer-term bonds later this year, but the price has to come down and reflect reality."
Luis Costa, a London-based emerging market debt strategist at Citigroup Inc., the world's biggest currency trader:
"I don't think the Bank of Israel has the stamina to engage in something more meaningful on the shekel. I am still sitting on dollar-shekel call spreads, but it is clear it will not perform. If the central bank does not act, given current economic data, the dollar-shekel may trade even lower."
Ofer Klein, the head of economics and research at Harel Insurance & Financial Services Ltd. in Ramat Gan, Israel, and one of the most accurate interest rate-decision forecasters, according to data compiled by Bloomberg:
"The Bank of Israel's announcement and especially the governor's speech was too hawkish, reducing the likelihood of achieving its inflation target over the coming year. It could also weigh on exports. It's reasonable the central bank will act to correct this impression, probably by continued purchases of foreign currency and more dovish comments in the future."
Or Keren, who manages assets of about $5.5 billion as chief executive officer at Yelin Lapidot Mutual Funds Ltd., which was ranked best performer in Israel by S&P Maalot and Globes for the first quarter this year:
"The stronger shekel has curbed our appetite for funds which are exposed to currency fluctuations, unless they are hedged. We won't be increasing our stakes in these kinds of securities at the moment. So we're now increasingly hedging our holdings that are linked to currencies and are investing less in these kinds of funds."
Ramzi Gabbay, the Tel Aviv-based chairman of the Israel Export and International Cooperation Institute, a government agency that promotes exports:
Flug has not given up on the battle on the shekel "but she has run out of tools. Even if she would have cut the rate, its impact would have been insignificant as rates are already so low. She has bought endless amounts of foreign currency but it hasn't helped. One cannot go against market forces. Now the issue is up to the government. We are calling on the government to allocate special budgets to promote exports."
Before it's here, it's on the Bloomberg Terminal.
LEARN MORE