Fed's Powell Sees 50% Odds of His Backing September Liftoff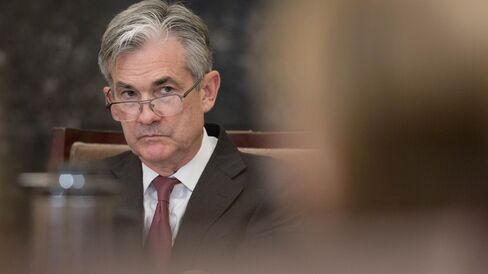 Federal Reserve Governor Jerome Powell said he sees a 50-50 chance the U.S. economy will improve enough for him to support an interest-rate increase in September, with a second move to follow in December.
Speaking at a Wall Street Journal event in Washington Tuesday, Powell said he forecast stronger growth than in the first half of 2015, growth in the labor market and a "greater basis for confidence" in inflation returning to 2 percent.
"If those things are realized, I feel that it is time, it will be time, potentially as soon as September," he said. "I don't think the odds are 100 percent. I think they're probably in the 50-50 range that we will realize those conditions, but that's my forecast."
Investors see a roughly 50 percent chance the Fed will lift off in September, according to bets in interest-rate futures markets. Remarks by Chair Janet Yellen at a press conference Wednesday after the Federal Open Market Committee met suggest to some economists she favors delaying to December.
The FOMC signaled that recovering growth would probably warrant raising rates later this year, though the pace of subsequent increases is likely to be gradual.
Powell said his forecast called for moves in September and December, while cautioning that "December is even more uncertain, given where we are."
The yield on 10-year U.S. Treasuries rose to 2.41 percent at 4:59 p.m. in New York, from 2.37 percent on Monday.
Two Moves
The comments place Powell among five officials who see two increases this year, joining San Francisco Fed President John Williams, who told reporters on Friday that he forecast two moves on the basis of "good progress" on hiring.
The median estimate of all 17 FOMC officials' quarterly projections for the benchmark federal funds rate implied two rate rises in 2015, though the number of officials forecasting fewer than two moves mounted to seven from three in March.
Five other officials saw three increases. The anonymous projections, shown as dots on a so-called "dot-plot," cover the next three years. They project a shallow path of rate rises that would lift the funds rate to a median forecast of 1.625 percent by end-2016 and 2.875 percent by the end of 2017.
Powell said that his own forecast was in line with that modest tempo of policy tightening.
"It seems to be appropriate that we raise rates but do so at a fairly gradual pace," he said. "The actual pace is going to be dependent on the path of the economy."
Reasonably Confident
Officials left rates near zero after their meeting on Wednesday. They want to be reasonably confident inflation is rising toward their 2 percent goal and the labor market continues to advance before raising rates for the first time since 2006.
Employers added 280,000 positions in May, the most in five months. The Fed's preferred gauge of price pressures, the personal consumption expenditures index, increased 0.1 percent in April compared with a year earlier and has been below the Fed's target for three years.
"The good news is in the labor market we've had substantial growth," Powell said. "And that's really a better measure of the economy than" gross domestic product.
He also said there's a "significant possibility" that measures of unemployment will fall faster than forecast.
Turning to developments abroad, Powell said "things are looking a little better in Europe" and "trend growth in China is slowing."
"If global growth weakens or remains weak" that will be a "big headwind for the U.S. economy," he said, adding that if the dollar strengthened as a result of Fed tightening, officials would include that development in their assessment.
"The dollar is strong because the U.S. economy is strong," he said. "We don't target the level of the dollar, but we consider all factors that could affect the economy."
Before it's here, it's on the Bloomberg Terminal.
LEARN MORE