Chile's Hidden Failings to Limit Recovery: Central Banker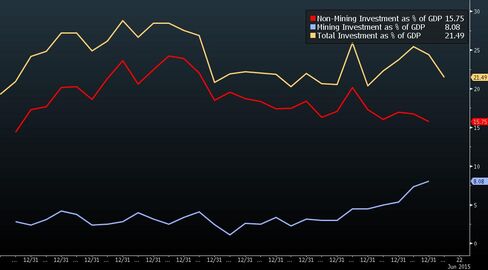 Chile's recovery from the weakest growth in five years is going to be slow as non-mining investment struggles to recover from a 28-year low, central bank director Sebastian Claro said.
The weaker exchange rate and greater slack in the labor market are starting to boost profit margins, paving the way to limited investment growth, Claro said in an interview in Santiago. Just don't expect too much.
"We see higher growth rates than we have seen until now, though we don't expect significant growth going forward," Claro said Monday. "We are not thinking of a rapid recovery."
A decade-long mining boom masked policy failings that fueled a 15-year decline in investment in other industries, Claro said. Until those issues are resolved, especially in the energy industry, the recovery in investment is going to be limited, crimping the country's potential growth rate and limiting the scope for interest rate cuts.
With growth subdued and inflation at the top end of the target range, the central bank's key rate is "at a suitable level" at 3 percent, Claro said. "In the next few quarters, rates should stay where they are."
Policy makers have a "great conviction" that inflation will be below the current 4 percent by year end and slow toward 3 percent at the beginning of next year, he said.
The peso, which has declined 12.5 percent against the dollar in the past 12 months and driven inflation higher, shouldn't fall much further, Claro added.
Challenges and Virtues
"Chile's economy has enormous challenges, and enormous virtues," said Claro, who joined the monetary policy board in December 2007, overseeing rates during the 2009 recession and the subsequent copper boom. Banks remain solid, the government has net savings and the current account deficit has narrowed.
The two-year slowdown has been "healthy," following rapid growth in the years before, Claro said.
Still, nine months after the government started to talk of a turning point and four months after hailing the green shoots of recovery, economic activity expanded only 1.7 percent in April from the year earlier, less than forecast by all but one of the 23 economists polled by Bloomberg.
In May, exports tumbled 22 percent from the year earlier, while imports declined 19.3 percent, indicating weak growth is set to continue.
"There is a certain view that supply is starting to take on greater dynamism, but that is still an open question," Claro said.
Fiscal Spending
Finance Minister Rodrigo Valdes said Tuesday that measures to revive growth are a priority for the government, while warning that public spending growth would have to slow.
"We have to be realistic and responsible and not offer things that aren't sustainable," Valdes told reporters.
Mining investment, which reached 7 percent of nominal gross domestic product in 2013, is declining following a slump in copper prices. Still, it is unlikely to fall as low as its 3 percent long-term average, Claro said.
Investment in other industries, which stagnated at about 16 percent of nominal GDP last year, should start to rise. The pace of that increase depends on the government's ability to boost business confidence and improve regulations for investment projects, Claro said.
Potential Growth
While the economy remains weak, high inflation and rising wages raise doubts over whether potential growth is still at the 4 percent to 4.5 percent estimated by the central bank, said Claro.
"If the economy's capacity to invest remains low, then the capacity for growth is also low," Claro said. "Inflation levels and the situation in the labor market show that there are supply restrictions that lead to a debate over potential growth."
The central bank cut its economic growth forecast for this year on June 3 and warned fiscal and monetary policy had done their job, saying that business confidence needed to improve to sustain the recovery. Monetary policy will remain "significantly expansive," policy makers said in their quarterly monetary policy report, without giving a timeframe.
Gross domestic product will rise 2.25 percent to 3.25 percent this year, the bank forecast, down from an estimate of 2.5 percent to 3.5 percent in the previous quarter.
"We think that low interest rates and a weakened exchange rate is a virtuous combination, but not necessarily sufficient" to revive growth, Claro said. Until the government tackles bottlenecks to investment, "it will be difficult to sustain higher growth rates."
Before it's here, it's on the Bloomberg Terminal.
LEARN MORE