Credit Suisse Sets Sights on UBS in Battle Over Private Banking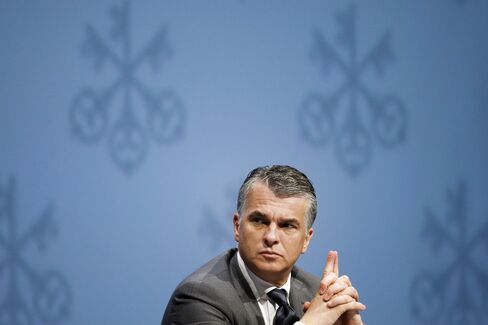 One of Switzerland's two global banks was conspicuously absent from the Innovation in Finance conference in April at the Dolder Grand, a castlelike hotel overlooking Zurich.
Credit Suisse Group AG, the country's second-biggest lender, sponsored the event. That meant no one from UBS Group AG, the largest Swiss bank and the world's top manager of money for the wealthy, was invited to speak. Instead, bankers from firms that don't compete with Credit Suisse in private banking took the stage.
UBS and Credit Suisse, with business operations spanning the globe and headquarters a few blocks apart in Zurich, have long been fierce rivals. Before the 2008 financial crisis, when investment banking was still in vogue, both would lay claim to being top dog in Switzerland, using different league tables to make their case.
Since taking over in 2011, UBS Chief Executive Officer Sergio Ermotti has scaled back investment banking, while Credit Suisse has clung to a bigger trading business. Meanwhile, the end of Swiss bank secrecy, for decades a magnet for billions of dollars and a source of profit for both banks, has eroded margins.
Intense Rivalry
Now, the companies are competing more for private-banking business. They're revamping the way they service the wealthy -- hiring new chief investment officers, introducing contracts where clients pay for advice rather than transactions, and trying to catch up to the digital revolution. And they're vying to show they are first or best.
Credit Suisse is the fourth-biggest private bank by assets under management, behind No. 2 Bank of America Corp. and No. 3 Morgan Stanley, according to an annual ranking by Scorpio Partnership. Its assets of 861.2 billion Swiss francs ($935 billion) at the end of March were less than half of UBS's 1.99 trillion francs.
Still, the rivalry is intense. Both are targeting the ultrarich, a group of about 200,000 individuals worldwide, says Alevizos Alevizakos, an analyst at Keefe, Bruyette & Woods in London.
"Most of these clients won't put all their money into one bank but will use both for different purposes or offerings," Alevizakos says. "I wouldn't say that there is a clear winner between UBS and Credit Suisse at the moment."
Investors have rewarded UBS for shrinking its investment bank and focusing on wealth management. UBS shares are up about 36 percent since the end of 2008, while Credit Suisse's are down 7 percent, even though the smaller bank survived the financial crisis with fewer losses.
It's no surprise, then, that Credit Suisse didn't want its chairman, Urs Rohner, who spoke at the April conference, to share a stage with the competition. After all, he's already being prodded by investors to scale back the investment bank -- what the Swiss call "do a UBS" -- after Tidjane Thiam replaces Brady Dougan as CEO at the end of June.
Read this next:
Before it's here, it's on the Bloomberg Terminal.
LEARN MORE