Connecticut Caving to GE Over Tax Boost Magnifies Budget Stress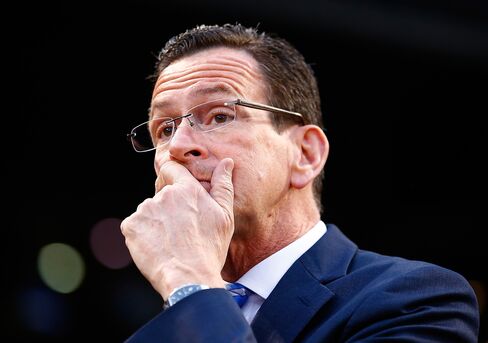 It didn't take long for Connecticut Governor Dannel Malloy to heed warnings from companies including General Electric Co. that they may move if the state raises business taxes.
Less than two weeks after the legislature approved the budget on June 3, the Democrat proposed scrapping the levies in the financial plan for the next two years and enacting spending cuts instead. The move shows even the wealthiest U.S. state is bumping up against the limits of its ability to boost revenue through higher taxes.
Investors are punishing Connecticut, driving the yield spread on its debt to the highest in at least 2 1/2 years, as the tax backlash makes it harder for officials to maintain services while also committing money to bolster the third-worst-funded U.S. state pension system.
"The market is just now coming around to the view that Connecticut faces some very serious challenges," said Tom McLoughlin, head of muni fixed-income in New York at UBS Wealth Management Americas, which oversees $1.1 trillion. "Spreads are wider now than they were earlier this year and are likely to go wider."
Using Reserves
Connecticut has a $116 million budget deficit for the fiscal year that ends June 30 and will use reserves to plug the gap, Ben Barnes, secretary of the Office of Policy and Management, wrote in a letter to the state comptroller last week.
The initial spending plan legislators passed called for higher levies on businesses and top earners. The governor then proposed scaling back the corporate levies after other states tried to lure companies including Fairfield-based GE.
"The governor and the legislature should do the right thing for small and large businesses and the citizens of Connecticut to improve the economic vitality of the state," Seth Martin, a spokesman for the company, said in an e-mailed statement.
David Bednarz, a Malloy spokesman, directed questions to Barnes, who said Connecticut is repaying pension obligations built up over decades.
'Difficult Budgets'
In 2012, Malloy announced a plan to tackle pension expenses by boosting contributions above the required amount to achieve full funding by 2032. The system had 49.1 percent of assets needed to meet obligations as of 2013, Bloomberg data show.
The payments are "going to create difficult budgets for a long time coming," Barnes said.
The budget pressures led Standard & Poor's to put the state's AA rating on "negative" outlook in March. Its Aa3 grade from Moody's Investors Service is tied for third-lowest among states, above only Illinois and New Jersey, which have seen their credit standing deteriorate because of pension strains.
The yield spread on Connecticut's 10-year general obligations has widened to 0.47 percentage point above benchmark debt, from about 0.32 percentage point at the start of the year and near the widest since Bloomberg data begin in January 2013.
The most-traded Connecticut securities Tuesday were state bonds due in September 2032. The debt changed hands at an average yield of about 3.5 percent, or 1.3 percentage points above benchmark munis, Bloomberg data show. That's the widest spread since the bonds were issued in August.
Limited Company
By making the full pension contribution, Connecticut is in the minority. Less than half of states did so in the 13 years through fiscal 2013, according to the National Association of State Retirement Administrators.
Four years after lawmakers enacted a record tax increase, the state is struggling to squeeze more revenue out of businesses and residents to meet that obligation and avoid reducing services. While Connecticut had the nation's highest per-capita personal income in 2013, it also had the third-highest state and local tax burden in the Tax Foundation's latest ranking.
"For Connecticut, it's damned if you do, damned if you don't" as far as paying into pensions, said Adam Stern, director of muni research in Boston at Breckinridge Capital Advisors, which oversees $20 billion in municipal strategies, including Connecticut bonds.
Tax Options
Making pension payments "is so expensive that they're having to incrementally raise taxes and find new revenue," hindering the state's ability to invest in infrastructure and draw businesses, he said.
The business-tax increases threatened jobs, Barnes said. The jobless rate fell to 6 percent in May, the lowest since 2008, from a peak of 9.4 percent amid job losses in the financial industry.
"We felt that was potentially a great risk to some great jobs we have here in Connecticut, and a source of our economic strength that we didn't want to jeopardize," Barnes said.
As an alternative, Malloy proposed spending cuts of as much as 1.5 percent.
Investors think of the Connecticut from "a generation ago when taxes were lower and the state's infrastructure was viewed as comparatively well-maintained," said McLoughlin at UBS. "Connecticut is among the more fiscally challenged states right now."
Before it's here, it's on the Bloomberg Terminal.
LEARN MORE