Confidence in Rousseff Suffers New Hit as Brazil Probe Grows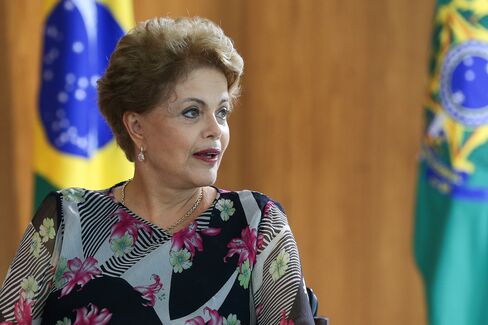 Just when Brazil's President Dilma Rousseff had started making progress in getting her political alliance to fall in line behind spending cuts, she faces fresh headwinds.
Pending testimony by the heads of Brazil's largest construction companies on graft at state-run oil producer Petroleo Brasileiro SA threatens to drag the ruling Workers' Party deeper into Brazil's largest corruption scandal. The timing comes just as Rousseff's popularity sinks to a new low.
The prospect that executives would try to implicate Workers' Party leaders, including Rousseff's mentor and former President Luiz Inacio Lula da Silva, boosts the odds of dissidence in her coalition. If one of the businessmen provides evidence that a party member or Rousseff was involved in wrongdoing, calls to impeach the president would strengthen and unravel her fiscal-austerity agenda, said political analyst Christopher Garman.
"It's a huge downside-risk scenario," said Garman, the head of country analysis at consulting firm Eurasia Group. "If this starts getting into the upper echelons of the Workers' Party and Lula, this could become a real mess."
Police investigating allegations that a cartel of builders paid bribes to Petrobras, as the oil company is known, in return for contracts detained Marcelo Odebrecht and Otavio Azevedo on Friday. The judge who issued the warrant for the two, who are chief executive officers of Odebrecht SA and Andrade Gutierrez SA, said the years of bribes couldn't have been paid out without their knowledge.
Probe's Reach
Congressman Darcisio Perondi, a member of the PMDB party, which is Rousseff's largest ally, said by telephone the probe into corruption at Petrobras, dubbed Carwash, "undoubtedly" will reach other areas of the government now.
Friday's detentions were part of a federal operation where authorities acted on warrants for 12 people, as well as 38 search and seizure orders. Police on Monday started taking testimony from people it detained, according to a report from the government news agency, which didn't specify when Odebrecht and Azevedo would speak.
Odebrecht SA said in a statement that the executive's detention was unfair and that the company hadn't participated in any cartel. Andrade Gutierrez said in an e-mail it did nothing wrong and its executives have no reason to turn state's witness.
State's Witness
Other businessmen have turned state's witness in order to receive a lighter sentence, including former Petrobras executives Paulo Roberto Costa and Pedro Barusco. The latter told investigators the Workers' Party received as much as $200 million from the scheme in the decade through 2013, according to a transcript of his testimony. The party denies the allegation.
In the weeks leading up to his detention, Odebrecht told Workers' Party members and lawyers close to Rousseff and Lula that he wouldn't go down alone, according to an Epoca magazine story published this weekend, which cites people close to the executive who it doesn't identify.
"The investigations have really gotten much closer to the nucleus of the government, be it the president or ex-president Lula," Andre Cesar, an independent political analyst who previously worked at CAC Consultoria, said.
The presidential press office declined to comment when asked whether the Odebrecht probe poses a threat to Rousseff. She has said she had no knowledge of corruption at Petrobras.
Epoca first reported in April that prosecutors opened a preliminary inquiry into possible influence peddling by Lula to secure contracts for Odebrecht.
Cuba, Angola
Investigators have asked Lula to provide information on foreign trips he made with the company after leaving the presidency, according to the press office for the Lula Institute, which focuses on increasing cooperation between Brazil, Latin America and Africa.
Odebrecht's and Andrade Gutierrez's construction units accelerated their expansion outside Brazil during Lula's two terms, which ran from 2003 to 2010. They used development bank loans for contracts to build ports, roads and bridges in countries including Cuba, Venezuela and Angola.
Brazil's state development bank BNDES since 2007 financed $8.2 billion and $2.6 billion worth of engineering services abroad for Odebrecht and Andrade Gutierrez, respectively. That together accounts for 91 percent of BNDES's foreign financing for the industry, according to data from the bank.
'Presidency's Fear'
The former president routinely delivers speeches for companies in various countries, neither lobbying nor providing consulting services, according to his institute, which says it is cooperating with a prosecutor's requests for information.
If investigators start a formal probe of Lula, he will turn for support to his traditional labor constituency within the Workers' Party that opposes austerity measures, said Eurasia's Garman. Rousseff would then have to choose between abandoning Lula and antagonizing part of her party or backing him and giving in to demands for more spending, he said.
"The presidency's fear is that this could reach Lula," said Congressman Perondi, who is part of a committee investigating Petrobras.
Rousseff has won passage of three key bills in Congress this year to raise taxes and limit expenditures on worker benefits. The effort is part of Finance Minister Joaquim Levy's strategy to shrink the budget deficit and rebuild investor confidence.
'Very Tenuous'
"The improvement in the situation is very tenuous," the independent analyst Cesar said about the government's austerity measures. "There is a risk of taking a step backward -- that the little that we achieved in reestablishing confidence and everything else could be lost."
A rebound won't occur until next year when the economy grows 0.7 percent after shrinking in 2015, according to analysts surveyed Friday by the central bank.
The benchmark Ibovespa stock index has declined 6.8 percent after reaching a peak for the year in early May. The real has depreciated 1.2 percent against the U.S. dollar over the same period.
This year's recession already contributed to a drop in Rousseff's approval rating, which according to a June 17-18 Datafolha poll fell to the lowest level of any leader since 1992. The president's popularity may slide further, according to the public opinion company's executive director, Mauro Paulino.
"Despite being very low, it's hard to state that this is already the bottom of the well," he said by phone. "With these numbers, it will be difficult to obtain any support in Congress. Even within the party, divisions have become explicit."
Before it's here, it's on the Bloomberg Terminal.
LEARN MORE