Bali Leads Indonesia Effort to Lure Tourists With Free Visas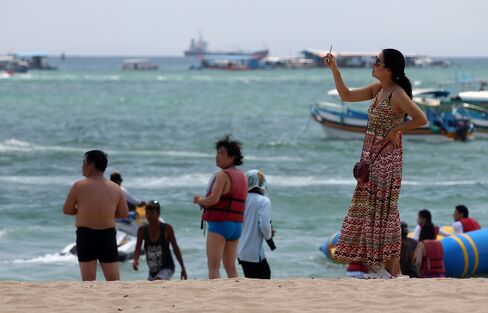 Indonesia will focus on Bali and islands near Singapore rather than developing more remote spots in the world's largest archipelago, as it seeks to double tourist numbers by 2020.
The government's marketing budget has been increased fourfold to 1 trillion rupiah ($75 million) this year, a sign of President Joko Widodo's commitment to the industry, Tourism Minister Arief Yahya said in an interview on Tuesday. That money will be spent promoting Bali, Jakarta and the islands of Batam and Bintan close to Singapore, which generate about 90 percent of the country's revenue from international tourists, he said.
"We cannot promote every destination in Indonesia as it's very expensive," Yahya said in Jakarta. "Our strategy is that tourism development follows infrastructure development."
An archipelago of 17,000 islands that would stretch from Alaska to New York, Indonesia attracted less than half the international tourists than its smaller neighbors Malaysia and Thailand did last year. As growth in Southeast Asia's largest economy slows to the weakest in more than five years and the government lags its revenue targets, the president has pledged to double arrivals in his five-year term.
Indonesia this month granted visa-free entrance to citizens of 30 countries including the U.S., China and Germany.
New Airport
On Bali, known for its surf, Hindu culture and rice paddy landscapes, the aim is to spread tourism development more widely as it's concentrated in the south near the main city Denpasar, said Yahya. The government is pushing ahead with plans to build a two-runway international airport at Singaraja in northern Bali and a toll road from Denpasar to Gilimanuk in the west of the island, he said.
Indonesia attracted 9.4 million international tourists last year, compared with Thailand's 24.8 million and Malaysia's 27.4 million, government data show. These countries made tourism a leading industry years ago, Yahya said. "In Indonesia this has just been decided now," he said.
It's a sensible approach to spend money on places that are already attracting guests, because many parts of Indonesia lack infrastructure, said Matt Gebbie, a Jakarta-based director at Horwath HTL, a hotel development consultancy.
"You'd have to spend a lot more to create a new destination," he said. "There's no point promoting Raja Ampat when no one can get there," he said, referring to islands in eastern Indonesia renowned for marine life.
Catching up with its neighbors would also attract funds to help the country narrow a shortfall in its current account that has weighed on the rupiah.
Cheap Destination
"If Indonesia was to match Thailand in terms of receipts from tourism, its current-account deficit would be a problem of the past," Ndiame Diop, the World Bank's lead economist for Indonesia, said in a presentation in Jakarta earlier this year.
The rupiah, which has fallen 28 percent against the dollar over the last three years, should make Indonesia a more attractive destination. Indonesia came third out of 141 economies for price competitiveness in the World Economic Forum's Travel & Tourism Competitiveness Index 2015. Other indicators were less positive, at 101 for service infrastructure and 134th for environmental sustainability.
Tourism Zones
While he's keen on improving the country's image for tourists, President Widodo has also sparked several high-profile diplomatic spats for rejecting pleas for clemency and executing foreigners for drug trafficking. Australia, the Netherlands and Brazil have withdrawn their ambassadors this year and President Francois Hollande has warned of consequences if Indonesia proceeds with the execution of a French citizen.
Yahya, chief executive of PT Telekomunikasi Indonesia before being appointed tourism minister last year, will spend about half the marketing budget on digital media including TripAdvisor, Google and Facebook, to garner interest from Singapore, Malaysia, China, Japan and Australia.
He aims to make it mandatory for developers to follow United Nations' sustainable tourism criteria when building resorts. Yahya is also encouraging provinces to develop special zones for tourism where developers may lease plots from the government to overcome the challenges of land acquisition.
"Otherwise it's too slow, developing this big country."
Before it's here, it's on the Bloomberg Terminal.
LEARN MORE