Amazon Will Halt Confederate Flag Sales, Following EBay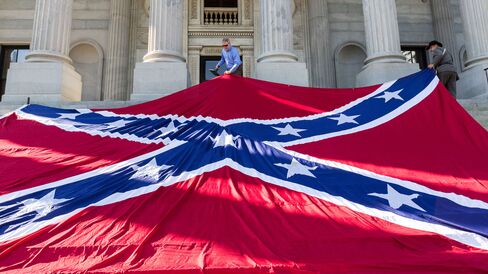 Amazon will pull Confederate flags and themed items from its Web store, a person with knowledge of the matter said, yielding to pressure after Wal-Mart, EBay and Sears said they'd stop selling the merchandise. Alibaba soon followed.
Amazon.com Inc.'s Facebook page lit up with demands from customers to cease selling items with the Southern rebel image or risk losing business. Controversy surrounding the Confederate flag intensified after Dylann Roof, the 21-year-old charged in the massacre of nine black worshipers in a historic church in Charleston, South Carolina, last week, was shown posing for pictures with it.
"There's no upside for any retail brand associated with sales of the Confederate flag," said Allen Adamson, managing director at brand research firm Landor Associates. "This is a potato that's too hot to handle."
While smaller retailers may be able to charge more for the paraphernalia, the Confederate flag is like Kryptonite for big retailers, who face far more downside from carrying the items than upside from revenue, Adamson said.
South Carolina Governor Nikki Haley Monday called for removing the flag from Statehouse grounds and Mississippi might do the same after House Speaker Philip Gunn said the state's banner, which includes the Confederate symbol, has become a point of offense and needs to be taken down.
Retailers have come under increasing scrutiny for selling objectionable items and have been forced to capitulate to social pressure. Last year Sears apologized after a ring with a swastika symbol appeared on the company's online Marketplace site. Amazon also offered the ring for sale at the time, though that page was subsequently taken down.
Customer Pressure
Amazon spokesman Craig Berman didn't respond to multiple requests for comment on Confederate flag sales over the past two days. The person with knowledge of the company, who asked not to be identified because the plans haven't been announced yet, didn't say when Confederate-themed items would be removed from Amazon's site.
Customer Bill Price, 68, a retired sound engineer in Chattanooga, Tennessee, had vowed to cut off purchases totaling about $100 a month of microphones and other sound equipment from the the world's biggest online retailer as long as it carried the Confederate flag, which he considers a symbol of racism and hatred. He praised the company for taking steps to remove the items from its website.
"I'm glad to see Amazon is responsive to the sensitivities of its customers," he said. "I didn't expect results this fast."
Objectionable Items
As recently as Monday, a 3-foot by 5-foot (1-meter by 1.5-meter) Confederate battle flag for $4.85 was the fifth-most popular item in Amazon's outdoor flags and banners collection, outselling the California state flag, No. 14, and the rainbow Gay Pride, No. 16. The only items more popular in the category were variations of the U.S. flag and a set of rings for mounting it on a pole.
Alibaba Group Holding Ltd. will remove listings for flags, clothing and other memorabilia using the imagery to meet its policy of prohibiting materials that are ethnically or racially offensive.
The company's Taobao marketplace has items including key rings and belt buckles for sale using the flag image.
EBay Inc. will ban the sale of the Confederate flag and many items containing the image "because we believe it has become a contemporary symbol of divisiveness and racism," according to Johnna Hoff, director of communications for EBay. The company will block new listings as of today and begin to notify sellers who have current listings that are affected, and then will start to remove current listings, Hoff said.
Retailers' Responses
Wal-Mart Stores Inc. said it would yank Confederate products, such as pocket knives and T-shirts, from its shops and Sears Holdings Corp. said it would eliminate merchandise from stores and its e-commerce site. Target Corp. also removed the one Confederate-themed item, a costume, that was on its site. Google Inc. will remove content containing the Confederate flag from its Google Shopping and ads, Crystal Dahlen, a company spokeswoman, said in an e-mail.
The overwhelming majority of flag sales in the U.S. are for the standard national version. Of about $303 million worth of American flags shipped by U.S. manufacturers in 2013, more than 90 percent of those sales were for the "Stars and Stripes," said Reggie Vandenbosch, president of the Flag Manufacturers Association of America. The estimates are rough because all of the companies are closely held, he said.
The trade group, which makes the quality flags that fly on government buildings, estimates that only $4 million of flags are imported from abroad, mostly from China. The Confederate flag ranks far behind the American, Texas and military flags that are most popular, Vandenbosch said.
'Rounding Error'
"From a business standpoint it's really a rounding error," he said of Confederate flag demand. "It's so small for us, we don't really talk about it."
But for Ron Hammon, demand for the vestige of the South's history is strong enough that he makes a living hawking Confederate flags, T-shirts and trinkets on his Proud Rebel online store. Hammon defended the Confederate battle flag as representing Southern culture and not racism.
"A lot of it is just regional pride," he said.
The flag, featuring a blue X filled with 13 stars on a red background, at the center of the controversy now was originally upheld as a sign of Southern pride and heritage and an homage to Confederate soldiers who died in the Civil War. In the following years, especially during the Civil Rights era, the banner became a divisive emblem of white supremacist groups.
In one photograph of Roof, he's holding the Confederate flag in one hand and a pistol in the other. Another image shows him burning the American flag.
Controversy Sells
As with guns, any whiff of controversy may be good for business. After a political tussle in South Carolina that resulted in a compromise in 2000 to remove the rebel flag from the capitol building and allow a version to fly at a less-prominent place on the Statehouse grounds, sales spiked, Hammon said. That may happen again as Haley seeks the two-thirds majority in the state legislature necessary to rid the state grounds of the flag.
"Ironically, it will make these items incredibly hot," Adamson said. "For those folks who want it, they'll pay more for it. For the manufacturers, it's probably a bonanza."
Civil rights advocates hope the controversy will end the debate once and for all.
"It's kind of an incredible thing to think that it's been 150 years since the end of the Civil War and this racist imagery is that much part of the culture," said Heidi Beirich, who tracks hate groups for the civil rights organization Southern Poverty Law Center. "You couldn't imagine the same thing happening in Germany with the swastika."
Before it's here, it's on the Bloomberg Terminal.
LEARN MORE