Euroskeptics hoping to convince the U.K. electorate to vote for a split with the European Union will have a harder economic argument to make in the run-up to the promised in-out referendum.
That's because economists surveyed by Bloomberg forecast growth across much of the EU, and especially in the euro area, to pick up significantly in the lead-up to the referendum. While a date hasn't yet been announced, U.K. officials are said to be looking at October 2016 as the preferred date, well before the end-2017 deadline that Prime Minister David Cameron has committed to.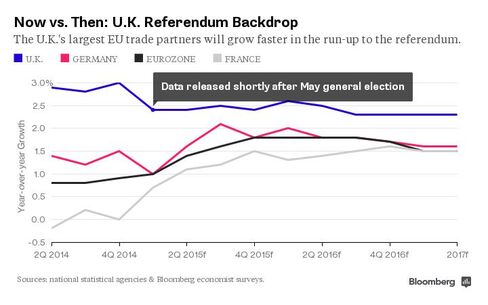 To understand the changing economic backdrop of the referendum debate, consider that data released shortly after the May general election showed that the U.K. economy grew 2.4 percent year-over-year in the first quarter compared to just 1 percent in Germany and in the euro area overall. France grew an anemic 0.7 percent during the same period.
Between now and the end of 2017, that 1.4 percentage point growth differential between the U.K. and euro area is expected to fall to as low as 0.5 percentage point, thanks to the healthier recovery finally taking hold across Europe.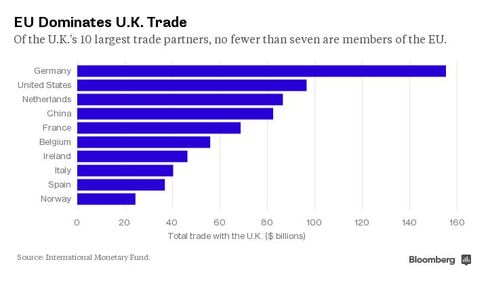 Even with growth set to lag behind that of the U.K., this improving outlook is certainly good news for the U.K., which counts seven EU member states among its 10 largest trade partners. Less clear is how it will impact the pro-EU and anti-EU teams as they prepare their arguments for the U.K.'s second referendum on its membership in the EU.
For more on the global economy, check out Benchmark:
Before it's here, it's on the Bloomberg Terminal.
LEARN MORE