SoftBank Sets Pay Record With $135 Million Pay for Arora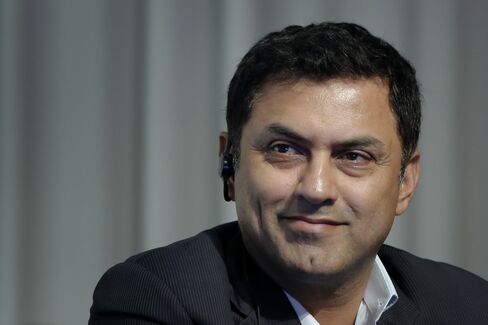 SoftBank Corp.'s push into global markets is bringing record-setting executive pay to Japan, breaking with the country's tradition of low compensation relative to the U.S. and Europe.
Nikesh Arora, billionaire Chairman Masayoshi Son's pick to lead the mobile carrier's expansion abroad, earned about 16.6 billion yen ($135 million) between joining the company in September and the end of March. SoftBank Director Ronald Fisher earned 1.79 billion yen last fiscal year, the highest on record for a Japanese company board member, according to Tokyo Shoko Research Ltd.
The record-setting pay comes as Son invests in expanding outside Japan and integrating Sprint Corp., the U.S. wireless carrier SoftBank acquired in 2013. Son promoted Arora, 47, to president in May, saying the former Google Inc. chief business officer would lead the company's global expansion. Son also said Arora was a top candidate to succeed him as chairman.
"From a common sense perspective, Arora's pay is too high," Mitsushige Akino, executive officer at Ichiyoshi Asset Management Co. in Tokyo, said by phone. "We don't know what his actual achievements are yet in SoftBank, so this doesn't give a good impression to the market."
Global No. 3
Arora's pay includes a signing bonus, Matthew Nicholson, a spokesman for SoftBank, said by phone, declining to elaborate.
SoftBank gained 0.9 percent to 7,319 yen as of the close in Tokyo trading. The shares are up 1.5 percent this year, compared with a 17 percent surge in the Nikkei 225 Stock Average.
Arora's $135 million haul makes him the world's highest paid executive behind Nicholas Woodman, CEO and founder of GoPro Inc. and Michael T. Fries, chief executive officer of Liberty Global Plc, according to the Bloomberg Pay Index. Woodman earned $285.3 million last year after being granted 4.5 million restricted stock units valued at $284.5 million. Fries made $139 million.
The total for SoftBank's new president includes about 2 billion yen in stock-related compensation and "short-term pay" of 14.6 billion yen, according to the company's June 19 filing.
Fisher, 67, president and founder of SoftBank Holdings Inc., helped lead Son's campaign in the U.S., including the Sprint acquisition.
Before it's here, it's on the Bloomberg Terminal.
LEARN MORE