Poland Gears Up for Europe's First Women-Led Election Since 1993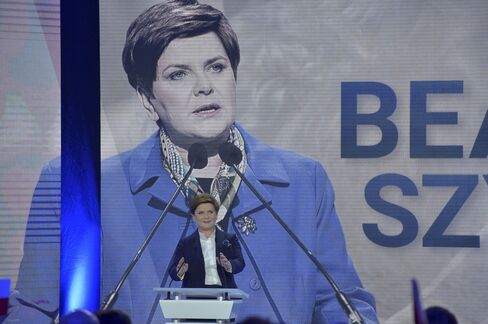 (Bloomberg) -- Poland's opposition candidate for prime minister kicked off a bus tour of the country ahead of a general election in October that's turning into the nation's first showdown between female contenders for the highest office.
Beata Szydlo, 52, is mirroring her Law & Justice party's successful strategy in last month's presidential elections in a bid to unseat Prime Minister Ewa Kopacz's government. The campaign pitting two female candidates is without precedent in Poland's 26-year democracy and the first in Europe in more than two decades.
"This will be a debate with Poles as it's our duty to listen to citizens -- this is what's been missing," Szydlo said in Warsaw on Monday, before boarding the same bus that President-elect Andrzej Duda used to criss-cross the east European nation before his surprise victory over incumbent Bronislaw Komorowski in May.
Szydlo's candidacy highlights a drive to open Poland's top opposition party to more moderate voters and marks a turn away from a bickering political style personified by Law & Justice leader Jaroslaw Kaczynski's stint as prime minister in 2006-2007, when he battled numerous "conspiracies" against his rule in the media, courts and business circles.
"By proposing a woman as prime minister, the Law & Justice is trying to ditch its image of a party that's extremely conservative," Bartlomiej Biskup, a political scientist at Warsaw University, said by phone on Monday. "It's also trying to show that the party doesn't just rely on Kaczynski, but is ready to bet on those who have better chances to win."
Women's Role
Staunchly Catholic Poland has one of Europe's most restrictive abortion laws and neither candidate is seeking to challenge that or make women's rights an issue in the campaign.
Even so, the election spotlight on Kopacz and Szydlo reflects the growing role of women in the country of 38 million people. At 37 percent, Poland has the highest ratio of women in senior management positions in the world after Russia and Georgia, compared with a global average of 22 percent, according to a March report by Grant Thornton International Ltd.
The outlook is less upbeat when it comes to their participation in politics, even though Kopacz is Poland's second female prime minister since the fall of communism in 1989. The proportion of parliamentary seats held by women in Poland stood at 24 percent in the four years through 2014, compared with 45 percent in Sweden or 37 percent in Germany, according to the World Bank.
Against Stereotype
"Putting women as the faces of the two main parties goes against the stereotype of Poland as a country where women only stay at home and look after kids," said Warsaw University's Biskup. "Women definitely tend to defuse political tensions and that's what both parties may also be counting on after years of confrontation, which voters are clearly fed up with."
The last time two women battled to head a European government was in Norway in 1993, when the Labor Party's Gro Harlem Brundtland beat her Conservative opponent Kaci Kullmann Five.
With the ruling Civic Platform party losing ground in opinion polls, Kopacz accused the opposition of trying to "cheat Poles" by proposing Szydlo, saying she isn't the one "calling the shots" in Law and Justice.
Szydlo was Law & Justice's spokeswoman on economic issues who masterminded Duda's victory over Komorowski in a campaign based on town-square meetings. The campaign allowed the opposition challenger to criticize the ruling party for failing to improve economic prospects for Poles while offering a vision of a more "decent" society focused around family and Catholic values.
Protecting Values
Szydlo stuck close to that message during her first campaign stop in Pultusk, a small town north of Warsaw. The Church in Poland is "very important and very necessary," she said. "If we don't protect our values, there won't be anything left."
Polish stocks have slumped since Duda's victory amid concern that Law & Justice will boost bank taxes if it completes its sweep into power. The WIG20 index has tumbled 7 percent in the period, the third-worst showing among 103 primary equity gauges tracked by Bloomberg.
If elected, Law & Justice will seek to reverse an increase in the retirement age, while boosting the tax-free income threshold and benefits for families, Szydlo said at a party convention on Saturday.
Law & Justice extended its lead over the ruling party in the latest poll conducted by TNS Polska for news website 300polityka.pl. It's backed by 34 percent of Poles, compared with 20 percent for Kopacz's Civic Platform, according to the survey published on Monday.
To contact the reporters on this story: Piotr Skolimowski in Warsaw at pskolimowski@bloomberg.net; Dorota Bartyzel in Warsaw at dbartyzel@bloomberg.net
To contact the editors responsible for this story: Balazs Penz at bpenz@bloomberg.net Paul Abelsky, Tony Halpin
Before it's here, it's on the Bloomberg Terminal.
LEARN MORE