Peugeot to Siemens See Greek Exit Stunting Europe's Recovery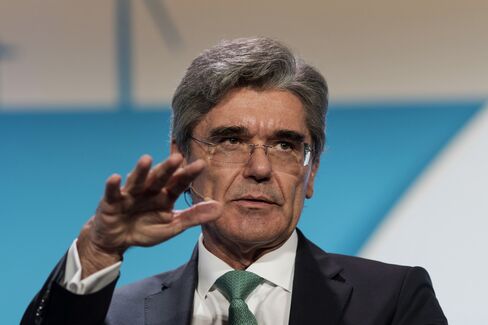 Executives from Siemens AG to PSA Peugeot Citroen say a Greek exit from the euro could threaten the region's economic recovery just as it's picking up momentum.
While the direct impact of a so-called Grexit on most companies outside Greece may be small, the secondary effects could ripple through the euro-area economy in the form of reduced confidence and investment. That wouldn't be good for earnings, said Peugeot Chief Executive Officer Carlos Tavares.
"Anything that could destabilize the fragile European economy is a priori bad for our business," Tavares said on the sidelines of an event in Rabat, Morocco. "Europeans are slowly regaining some confidence, this confidence is leading to an improvement in spending and thus for the auto market."
After sputtering for years, the region's economy is benefiting from a confluence of favorable circumstances. A weaker euro, cheaper oil prices and Mario Draghi's 1.1 trillion-euro ($1.25 trillion) bond-buying program at the European Central Bank are stimulating growth. The euro-area economy expanded 0.4 percent in the first quarter.
While Greece accounts for less than 2 percent of the euro zone economy, the executives say the shock of a Grexit could wreck that progress by driving borrowing costs higher in parts of Europe and stock prices down.
Grexit Debate
After dropping to record lows earlier this year, 10-year sovereign bond yields in Spain and Italy have jumped by more than a percentage point as Greek negotiations went nowhere and investors anticipated higher interest rates from the U.S. Federal Reserve. That's translating into a pickup in borrowing costs for companies as well.
A Grexit could hurt the "general mood of the stock exchanges and financial markets," said Michele Norsa, CEO of luxury goods maker Salvatore Ferragamo SpA, adding that the Greek market itself is too small to have much impact on his sales. He said he's still confident a Grexit can be prevented.
"This doesn't mean that the solution will be immediate -- maybe we will see months of turbulence," he said.
As the days dwindle before Greece's bailout agreement expires on June 30, European Union leaders called an emergency summit on Monday evening in Brussels to seek a deal.
The Greek crisis ranks among Siemens CEO Joe Kaeser's biggest worries at the moment, he said on the sidelines of an event in Sao Paulo last week.
"The concerns are much more on the economic side of Europe," said Kaeser, whose company derives about 30 billion euros in annual sales from the EU. "That's something which needs to be looked at because of the Grexit type of debate."
'More Robust'
On the positive side, the protracted nature of Greece's descent and the long negotiations have given companies time to prepare for the worst. And concern contagion will sweep across the continent has diminished since Greece's last brush with exiting the euro, in part because of the ECB's bond-buying program.
"The euro zone is much more robust than it was in 2010 or 2012 when this problem first came up," said Maxime Sbaihi, an economist at Bloomberg Intelligence in London.
The failure to solve Greece's problems after five years is a source of frustration for Remo Ruffini, CEO of winter wear-maker Moncler SpA.
"We have to find a solution as soon as we can, not continuing to find small solutions," he said in an interview in Milan Sunday. "For our industry it is not a big market, but there could be a strong impact in case Greece exits the euro."
Confidence Suffers
There are signs the Greek stalemate is hurting sentiment. German investor confidence fell in May, while an index of investor and analyst expectations that aims to predict economic developments six months in advance slid in June to the lowest level since November.
Some companies may feel a direct hit from a Greek exit. Deutsche Telekom AG could be forced to write down the value of its 40 percent stake in Greece's Hellenic Telecommunications Organization SA, according to Bloomberg Intelligence. The investment generated about 6.4 percent of Europe's biggest phone company's earnings before interest, taxes, depreciation and amortization last year.
Vodafone Group Plc might also have to write down its Greek operations, which accounted for 2.1 percent of Ebitda in the fiscal second half, according to Bloomberg Intelligence.
Remy Cointreau SA Chief Financial Officer Luca Marotta said sales of the company's Greek brandy, Metaxa, will suffer as a result of events in Greece and Russia, where western sanctions are hurting the economy.
"Between Greece and Russia, the brand is in a bit of a tough spot," he told analysts on a conference call last week.
Across the continent, investment in infrastructure and industrial development might be the most affected by the reduction in spending a Grexit would cause, said Volker Stoll, an analyst at Landesbank Baden-Wuerttemberg in Stuttgart.
For more, read this QuickTake: Common Currency's Existential Crisis
Before it's here, it's on the Bloomberg Terminal.
LEARN MORE