The Submariner is not just for Rolex. Not even close.
The Tudor Snowflake Submariners have been getting a lot of attention over the last few years as Tudor released new watches in tribute to these iconic models. Prices have skyrocketed accordingly for the originals. The earlier ref. 7928 Tudor Submariner, with a more traditional dial and stock hands, often gets forgotten in the mix. That's a big mistake.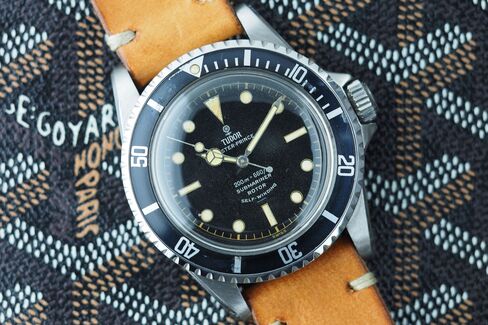 With vintage watches, much of the value is held in the dial. That's even more true with vintage Tudor and Rolex watches. The dial on this 1963 Sub is incredible. It has a soft patina throughout, showing the age, and the luminous markers have faded to a creamy color that has a soft yellow tinge. What makes this dial special, though, is the gilt chapter ring marking the minutes around the edge, the lone "Swiss" signature down at the very bottom, and the small underline that appears below the four lines of text at 6 o'clock.
For vintage Tudor Submariners, this is near-perfect.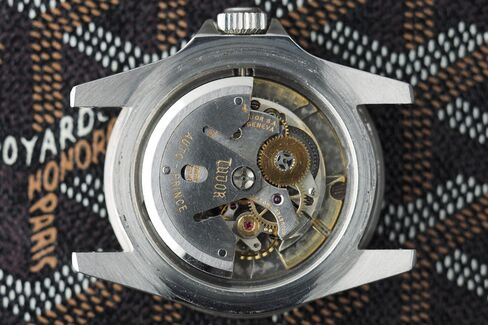 The case also has a special characteristic, called pointed crown guards. Usually the two nubs that keep the crown from being damaged are rounded at the ends, but here they come to a sharp tip. It's one of those little things that real collectors pick-up on immediately. The lugs still show their bevels, though there has been some polishing recently, meaning that they're shiny instead of matte, as you'd expect.
The only real downsides to this watch are that it doesn't come with a period-correct steel bracelet and that the hands have been retouched with a more-luminous paint (called a "re-lume") to match the dial perfectly. Neither is a deal-breaker, but they're both worth factoring into a decision to buy.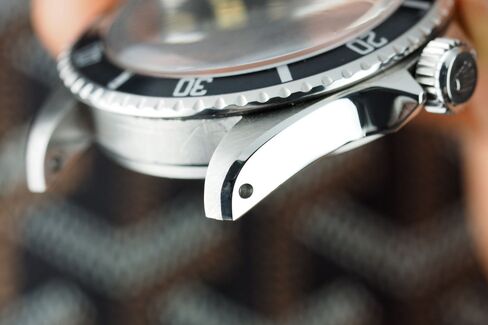 This watch is an excellent reminder of just how much that tiny Rolex coronet can change the price of a watch. Notice I said price, not value. A similar Rolex Submariner, with pointed crown guards, gilt chapter ring dial, and tiny underline would set you back more than four times as much.
Sure, the Rolex is incredible, but it's hard to look at these two watches and not think that the Tudor holds its own.
This Tudor Submariner is available from 10PastTen and is priced at $9,200.
Before it's here, it's on the Bloomberg Terminal.
LEARN MORE