Crowd of Titans Gathers for Wall Street 'Connector' Jimmy Lee
Luminaries of American capitalism gathered Monday to remember James B. "Jimmy" Lee as a Wall Street dealmaker who fought tirelessly for clients and befriended just about everyone he met.
Many of those friends filled St. Patrick's Cathedral in New York to pay tribute to Lee, a JPMorgan Chase & Co. vice chairman who died unexpectedly on June 17 after falling ill at his Connecticut home.
"Your dealmaking was legendary," Jamie Dimon, JPMorgan's chief executive officer, said in a eulogy. "You helped the families not just of the captains of industry in this room, but also drivers and mailroom attendants."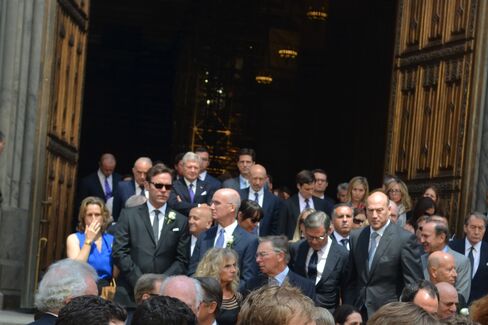 Lee, who was 62, spent four decades at JPMorgan and its predecessors, helping to pioneer ways for companies to make ever bigger acquisitions. Attendees included leaders from finance, technology, media and heavy industry.
Barry Diller, Marissa Mayer, Jack Welch, Jeff Immelt, Rupert Murdoch, Sheryl Sandberg, Michael Bloomberg and Steve Schwarzman were among the 46 honorary ushers listed in the program. Lloyd Blankfein, Mort Zuckerman, Bill Ackman and Paul Taubman were among the mourners who filled the cathedral, which can accommodate about 2,500 people.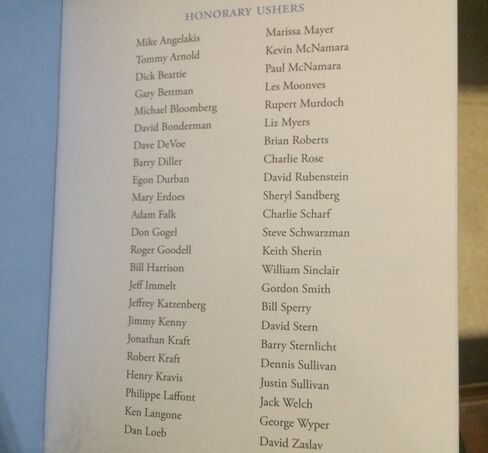 Toward the front, former National Basketball Association Commissioner David Stern and broadcaster Charlie Rose sat near columns criss-crossed in metal scaffolding rising toward vaulted ceilings. Lanterns, pails and electric wires from the cathedral's five-year renovation lay scattered nearby, signs of unfinished business that might as easily have been symbols of the work Lee left behind at JPMorgan.
Among those projects: advising General Electric Co. on divestitures.
E-Mail Missives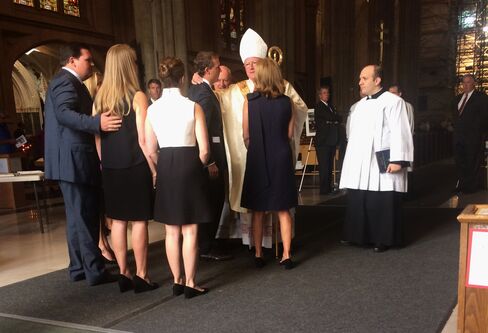 Lee relished bringing people, ideas and capital together, according to those who spoke. A man who lost his father at 11 and grew up in boarding schools, he never forgot the value of his own family.
Before catching the 5 a.m. train to New York every day, Lee would pull the cardboard inserts from his dry cleaning and write notes to his children with a felt-tip pen, his son, Jamie Lee, recounted in his eulogy. "It was his way of telling us that he loved us."
Later on, Lee's missives came in e-mail form -- "short, witty, emotionally charged," his son said.
In private meetings, "when you were with him, one on one, that office door was closed and those sparkling blue eyes locked in on you and only you," Jamie Lee said. "I'm not sure if I know of a better feeling in this world."
Dimon, 59, who was diagnosed with throat cancer last year, said Lee supported him throughout the ordeal and visited the CEO every day to give him a hug. "And you whispered in my ear, 'I love you like a brother,'" said Dimon, who paused several times during his eulogy to compose himself.
'Nuclear Power'
"You had some kind of secret for us," said Dimon, who said Lee's DNA was "embedded" in the bank, the biggest in the U.S. by assets. "You were a nuclear power. A sun of positive energy."
Lee had chosen to stay at New York-based JPMorgan rather than join his friend Schwarzman at Blackstone Group before the asset manager's public offering.
He advised on some of the biggest deals in corporate America, helping negotiate Comcast Corp.'s acquisition of NBC from General Electric in 2009, the United-Continental airline merger in 2010 and General Motors Co.'s $18 billion initial public offering later that year. He also was an adviser to Dell Inc. on its $24.4 billion buyout by its founder, Michael Dell.
Happy Warrior
Cardinal Timothy Dolan gave the final commendation, thanking Lee and his family for their generosity to the church and noting that Lee was scheduled to receive the Happy Warrior Award at the Alfred E. Smith Memorial Foundation Dinner in November. The event is an elite gathering of politicians, businessmen and entertainers.
As attendees in black poured onto the sidewalks around St. Patrick's, forcing late-morning foot traffic on Fifth Avenue to walk around the mourners, tourists inquired who all the hubbub was for.
"A Chase banker," one of them said.
Before it's here, it's on the Bloomberg Terminal.
LEARN MORE