Indonesia Rejects Clemency Appeal by French Man on Death Row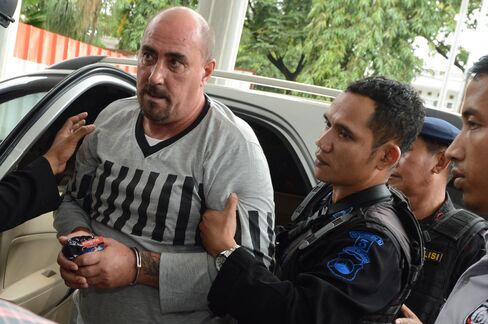 An Indonesian court declined to hear an appeal by French citizen Serge Atlaoui against President Joko Widodo's refusal to grant him clemency from execution.
The case didn't fall within the administrative court's jurisdiction, Chief Judge Ujang Abdullah said on Monday in Jakarta. That was the same reason it gave for rejecting a challenge by Andrew Chan and Myuran Sukumaran, two Australian drug smugglers who were executed in April.
Widodo, known as Jokowi, has said he won't show mercy for convicted drug smugglers. Indonesia has put to death 12 people for drug trafficking this year, most of which have been foreigners, prompting Australia, the Netherlands and Brazil to recall their ambassadors in protest. French President Francois Hollande warned in April of "consequences" if the execution proceeded.
Atlaoui, who worked as a welder, was arrested at a laboratory disguised as an acrylics factory in Tangerang, west of the capital Jakarta. The Frenchman maintains his innocence, said Nancy Yuliana Sanjoto, his lawyer.
"We are very disappointed by this decision," she said in Jakarta after the ruling. "We will speak with his family and with the embassy. We will try anything to find another legal option."
Atlaoui's execution won't happen until after Ramadan, Tony Spontana, spokesman for Indonesia's attorney general said after the ruling, according to an Associated Press report. The Muslim fasting period ends in Indonesia on July 17. Spontana didn't respond to two messages to his mobile phone seeking comment.
Cruel and Unnecessary
Australian Prime Minister Tony Abbott described the executions in April as cruel and unnecessary. The two Australians were put to death along with three Nigerians, one Brazilian, one Ghanaian and an Indonesian. Filipino Mary Jane Veloso was given a reprieve to allow her to testify against the person who allegedly recruited her to traffic drugs, who voluntarily turned herself in.
Jokowi declined to comment on Australia's withdrawal of its ambassador in April, telling reporters the day after the executions that "this is our sovereignty."
Netherlands Ambassador Rob Swartbol returned to Indonesia in February, a month after he was recalled following the execution of Dutch citizen Ang Kiem Soei in January. Australian Ambassador Paul Grigson returned to Indonesia on June 8.
Before it's here, it's on the Bloomberg Terminal.
LEARN MORE