Five Things Everyone Will Be Talking About Today
Get set for the new week here.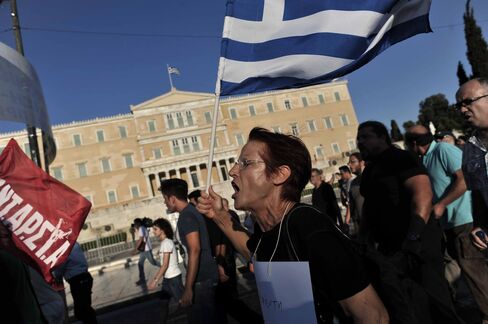 Optimism ahead of Greek talks lifts markets, plenty of M&A activity and Taylor Swift takes on Apple (and wins). Here are some of the things that people are talking about in markets this morning.
Greek talks optimism
Markets in Europe are moving higher this morning on prospects a positive outcome from Greek negotiations in Brussels today. Proposals submitted by the Athens government over the weekend have been given a guarded welcome by European leaders ahead of today's meetings. Euro-area finance ministers meet at 12:00 CET (6:00 a.m. ET). The leaders summit starts at 19:00 CET (1:00 p.m. ET).
EU extend Russia sanctions
The European Union announced an extension of sanctions against Russia to the end of January 2016. Despite recently courting economic aid from Moscow, the Greeks did not try to veto the prolonging of curbs on trade. The sanctions are certainly having an effect - at least in countries that export to Russia.
M&A activity
Over the weekend, health insurer Anthem Inc. offered to buy smaller Cigna Corp. for about $47 billion in cash and shares. The deal, which would be the industry's biggest ever, is in doubt following Cigna's rejection of the offer, saying the bid undervalued the company. In Europe, there is an $11 billion French telecom takeover in the cards, and a sweet deal in the U.K. as British chocolate maker Thorntons is set to be acquired by Ferrero International.
More Europe
The 'Five Presidents' report on the future of Europe was published this morning. In it the president of the ECB, the Eurogroup, the European Commission, the EU and the European Parliament set out their medium-term goals for the EU, including creating a common treasury for the euro area by 2025. Mario Draghi once again called for a 'quantum leap' forward in European integration. The report had nothing to say on the current Greek crisis.
Taylor Swift beats Apple
In a change of policy, Apple has agreed to pay royalties to artists during the free trial period of its new music streaming service. Artists were unhappy that Apple planned to make them bear the costs of the three-month trial period customers would have. When Taylor Swift said in a blog post that she would not be allowing her new album onto the service, Apple quickly changed their policy.
What we've been reading
Here's what caught our eye over the weekend.
Before it's here, it's on the Bloomberg Terminal.
LEARN MORE