Frozen Bank Accounts Hit Copa America as Messi Seeks Victory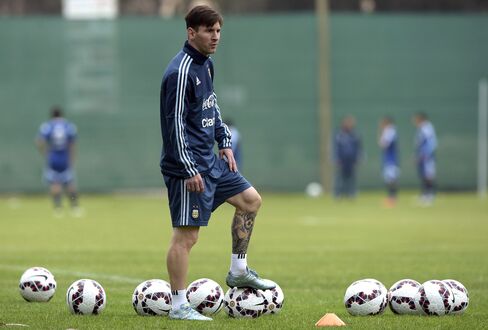 A U.S. probe into global soccer corruption has led to a $45 million shortfall at South America's Copa America tournament after organizers had their bank accounts frozen.
The 12-nation competition in Chile stars four-time world's best player Lionel Messi of Argentina, his Barcelona teammate Neymar of Brazil, and Real Madrid's James Rodriguez. The event risked being overshadowed by charges filed by the U.S Department of Justice that said it was the center of a $110 million bribery scheme.
The owners of Datisa, a company created by Brazilian and Argentine sports executives to buy rights to four Copa America tournaments through 2023, have all been charged with paying bribes to some leaders of South American soccer body Conmebol.
"We've just got $35 million of the $80 million in the contract because of the problems," Carlos Chavez, head of Bolivian soccer and Conmebol treasurer, said in an interview in Santiago. "We are discussing the issue with the lawyers."
Chavez said each of the 10 South American teams in the tournament will get $3.5 million.
The U.S. indictment said Datisa agreed to $317.5 million contract with Conmebol, which includes a one-time 16-team centennial event scheduled for the U.S. next year. Chavez said it's not clear yet whether it will go ahead.
The payments can't be made because Datisa's Swiss accounts are frozen, said Jochen Loesch, head of international business for Brazil-based sports marketing firm Traffic Group, one of the companies that make up Datisa. Traffic founder Jose Hawilla, 71, pleaded guilty in federal court in Brooklyn to racketeering conspiracy, wire fraud conspiracy, money laundering conspiracy and obstruction of justice. He agreed to forfeit $151 million.
"The second the account is unlocked they will receive the money," Loesch said by phone. "It's just out of our reach."
The company is working with lawyers in the U.S. and with Swiss authorities to unfreeze its bank accounts, he said.
Several members of Conmebol's top board, including its president Juan Angel Napout, haven't traveled to Chile for the Copa America. Venezuela federation head Rafael Esquivel is in prison in Switzerland following his arrest there with six other soccer officials, including two vice presidents of soccer governing body FIFA.
"Each $20 million payment was to be divided among the bribe recipients: $3 million to each of the 'top' three Conmebol officials; $1.5 million to each of seven other Conmebol officials; and $500,000 to an eleventh Conmebol official," according to criminal charges that Hawilla admitted.
Alejandro Burzaco who ran an Argentine sports marketing firm, handed himself into police in Italy earlier this month after an Interpol alert was put out for him and others not in custody.
Before it's here, it's on the Bloomberg Terminal.
LEARN MORE