Darryl Hamilton, Former Major Leaguer, Dies in Murder-Suicide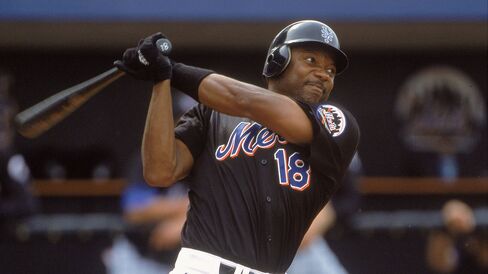 Hamilton played 13 years in MLB, later worked for MLB Network

Was member of the New York Mets' 2000 NL pennant-winning team
Darryl Hamilton, a member of the New York Mets' 2000 pennant-winning team, died as the victim of a murder-suicide, police said.
The bodies of Hamilton, 50, and Monica Jordan, 44, were found Sunday afternoon at a home in the Houston suburb of Pearland, Texas. Both died of gunshot wounds, local police said in a statement on the department's website.
"Based on the initial investigation, it appeared as if Hamilton was the victim of several gunshots and that Jordan had a self-inflicted gunshot wound," the statement said, adding that the investigation was ongoing.
The couple's 14-month-old child also was found in the home and released to Texas Child Protective Services, the statement said.
Hamilton, a 13-year Major League Baseball outfielder, also was an analyst for MLB Network.
Darryl Quinn Hamilton was born Dec. 3, 1964, in Baton Rouge, Louisiana, and played college baseball at Nicholls State University in Thibodaux, Louisiana, according to Baseball-reference.com.
Hamilton didn't play for an organized baseball program until he enrolled at Nicholls State in 1984. His high school lacked a team, according to a video produced by the Nicholls Television Workshop.
"Not coming from places where everything is given to you really sets you up to work harder and be humble," Hamilton said in the video.
He was selected by the Milwaukee Brewers in the 11th round of the 1986 amateur draft and played his first seven major-league seasons with the Brewers. After stints with the Texas Rangers, San Francisco Giants and Colorado Rockies, he finished his career with the Mets, playing in New York from 1999-2001. The Brewers host the Mets in a series that begins Tuesday.
Hamilton retired with a .291 career batting average, 1,333 hits, 51 home runs and 454 runs batted in. He also stole 163 bases, including 41 for the Brewers in 1992.
After retiring in 2001, Hamilton worked in the MLB commissioner's office as president of on-field operations before getting into broadcasting, eventually joining MLB Network as a studio analyst.
"He was a talented and personable individual, and we were proud to call him a member of the baseball family," Commissioner Rob Manfred said in an e-mailed statement.
Before it's here, it's on the Bloomberg Terminal.
LEARN MORE