Taliban Seize Key Afghan District After Assaulting Forces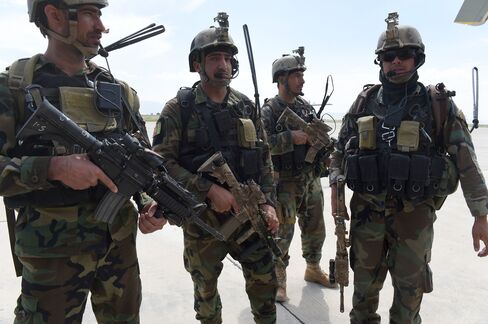 Parts of Char Dara district in Afghanistan's northern Kunduz province fell into Taliban hands after a 10-hour standoff with government forces, local officials said.
Afghan Taliban and foreign fighters including Chechens, Uzbeks and al-Qaeda members opened a "major assault" Saturday morning and captured the center of the district at 7 p.m., said Meer Wali, a district policeman involved in the fighting.
Afghan forces tactically withdrew to minimize casualties and protect civilians, and reinforcements were deployed Sunday to try to regain control, provincial spokesman Sayed Sarwar Hussaini said. Taliban spokesman Zabihullah Mujahed confirmed the capture of the district in an e-mailed statement.
The Taliban are attempting to gain territory and have intensified attacks that caused many civilian casualties as U.S.-led forces ended their combat mission last year, leaving all security duties to Afghan personnel. Sixteen Afghans were killed Saturday as their vehicle hit a roadside bomb after a June 13 assault on a checkpoint left 17 Afghan forces dead.
Despite the battle in the district, militants are now also fighting government forces in areas 3 kilometers (2 miles) from the governor's compound to try to capture the provincial city of Kunduz, according to Hamdullah Danishi, provincial deputy governor. Kunduz, part of Taliban's central war after their spring offensive, almost collapsed in April.
"There were too many heavily armed insurgents," Wali said. The Taliban surrounded the district and cut off supply lines, forcing Afghan security personnel to withdraw, he said.
Casualties Mount
Three Afghan forces were killed and six were wounded while 17 Taliban militants died and 21 suffered injuries, according to Hussaini, the spokesman.
The Taliban's capture of Char Dara came a day after Afghan forces retook another area that had been held by the militants since June 6. The district of Yamgan is now under government control after a two-week battle that killed at least 120 local and international Taliban fighters, according to an e-mail from the Interior Ministry.
Four districts of the more than 350 in the war-torn nation are controlled by Taliban, senior military official General Afzal Aman told reporters on June 13. Forty percent of Afghanistan faces a significant threat from insurgents, according to the United Nations.
The war in Afghanistan killed 92,000 from 2001 to 2014 and wounded almost 100,000, according to a report this month from Brown University. That toll includes Afghan and foreign civilians, foreign forces and insurgents.
Before it's here, it's on the Bloomberg Terminal.
LEARN MORE